5 Things NFL Bettors Should Know This Post-Season
January 1, 2015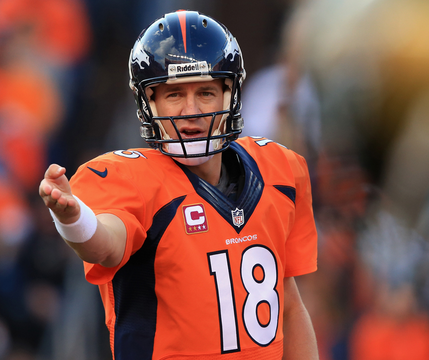 We are now a mere few days away from the end of the 2014 NFL season. Where did time go? After week 17 concludes, the exciting part begins – the NFL playoffs. Nothing beats the NFL playoffs in terms of excitement. However, from a bettor's perspective, the playoffs can be a costly investment if you aren't properly prepared. Fortunately, we're not going to allow that to happen.
Peyton Manning isn't really a choker
ESPN analysts love using the "choker" moniker to describe Peyton Manning, which leads to clueless football fans buying in. The Broncos likely won't get a ton of respect from Vegas because the general public thinks it's absolutely impossible for a "choker" like Manning to come through in the playoffs (even though he's won a Super Bowl). Manning isn't the only player on Denver and the Broncos aren't screwed because Peyton Manning is their quarterback.
Money is to be made betting against the general public
The general public doesn't know jack squat about anything. They simply but into media hype. The real money is made betting against the popular bets. This is true throughout the NFL season, but even more so during the playoffs. It's often a smart play to wait until game day to place your bet. Wait for the general public to swing the odds in your favor.
Be weary of teams limping into the playoffs
We've seen a few Wild Card teams get to the Super Bowl in recent years, but those teams were playing well heading into the playoffs. The NFL playoffs actually aren't about which team is the best. They are about which team is playing the best and healthiest at the end of the season. That's why we always see a 12-13 win team flop in the playoffs. You have to be cautious of the top teams that aren't playing well at the end of the season.
Don't bet just to bet
I know the season is coming to an end, which means there aren't a lot of games left to bet. A common mistake bettors make is to bet on every playoff game just because. This is a poor strategy. Bet because you are confident in your team to come through. Don't bet just because you want some action. That simply isn't a winning strategy. It's better to throw down $500 on a game you're confident in, as opposed to putting $250 on one game and $250 on another game you're only betting because you want to bet every game.
Been there, done that doesn't matter as much as you think
People love to talk about "experience", as if that's the only thing that matters. If you've followed the NFL playoffs over the past decade, you'll know that playoff experience is highly overrated. It matters somewhat, but only a small portion. Teams and players with no playoff experience have been tearing it up in the post-season for years. Just take a look at Seattle last year. Their inexperience didn't hurt them. I'm not saying you shouldn't take experience into consideration when handicapping, but don't expect experience to trump talent.
Open and account a TopBet.eu and claim 50% bonus up to $250