Opening Lines for NFL Divisional Playoffs Have Been Posted
January 5, 2015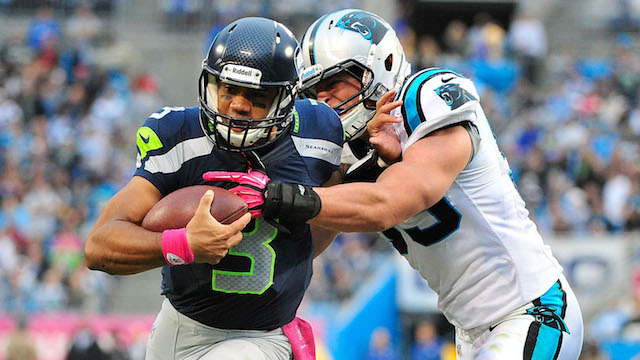 After the final whistle blew to end the Dallas vs. Detroit wildcard game on Sunday, odds makers immediately went to work on the line for Dallas' divisional playoff game against the Green Bay Packers.
Odds makers do not wait long to have the early lines posted and by early evening the last of the four divisional playoffs to be played this weekend was on the board.
Three of the four games have opening lines hovering close to a touchdown.
The Seattle Seahawks are the biggest favorite for the week. The Seahawks have opened as 11-point chalk against the Carolina Panthers.
With opening numbers like the ones for the upcoming four games, underdog bettors will be zeroing in on their choices.
The Dallas Cowboys, after defeating Detroit, but not covering as a 6-point favorite at home, will travel to face the Green Bay Packers.
The line in this game is the shortest of the four, with Green Bay opening as 6.5-point favorites, with that already bet down to -6.
The point total for the over/under opened at 52.5.
Earlier on Sunday afternoon, just minutes after the Indianapolis Colts defeated the Cincinnati Bengals the line was released for this weekend's divisional clash between the Colts and the Denver Broncos. Denver opened on most sportsbooks as the favorite by 7.5 points. That price interested a number of Indy supporters and the line was quickly moved to -7.
The point total in the game is sitting on 53.5.
Seattle will host Carolina on Saturday as an 11-point home favorite. The point total is the lowest of the four games at 40.5. That is no surprise to anyone as both teams are known for their strong defense and points could be few and far between on Saturday night in Seattle.
The New England Patriots will host the Baltimore Ravens in one of the two AFC divisional playoff games this weekend.
The Patriots opened on Saturday as 7-5-point home chalk, but that figure has since been bet down to its current -7.
The point total for the game has been steady since it opened at 49.
These lines will move up and down during the course of the week and right up until the opening kickoff of each game.