Seattle is Double-Digit Chalk versus Carolina this Weekend
January 6, 2015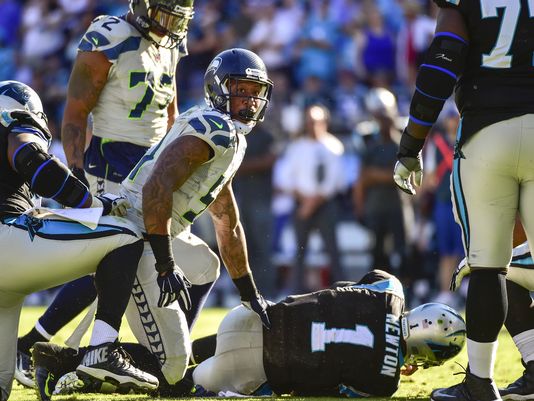 The Seattle Seahawks are laying a big number versus the Carolina Panthers at home this weekend.
The line for the NFC divisional playoff matchup scheduled for Saturday night between the host Seahawks and Panthers jumps out at you. Very few playoff games in the NFL feature point spreads that are double-digit in size.
For the past 10 seasons, leading up to this one, only 13 of 110 games played in the postseason have featured favorites of 10 points or more.
Nevertheless, spreads that are that large are seen in divisional playoffs more times than in other rounds.
However, while the current line sits at -11 for Seattle, bookmakers believe that Carolina is getting more respect from the betting market than they deserve.
Certain odds makers see the true line at upwards of 12.5 or higher and are surprised it sits at just 11.
Carolina was below .500 on the season and defeated Arizona last weekend. When Carolina has faced good teams this season, the Panthers have been beaten badly.
Of the six underdogs of 10 points or more during the divisional playoffs the past 10 seasons, 3 have won straight up, while the other three were 1-2 against the number.
Double-digit dogs have not turned a profit during the wildcard rounds going 1-4 both SU and ATS. However, they are 1-0 against the number in conference championship games and 1-0 straight up and against the number in the past 10 Super Bowls.
Seattle and Carolina have played head to head in each of the past 3 regular seasons. All three of the games have been in Carolina.
Seattle is 3-0 SU in the games, but each one has been decided by 5 points or less and dictated by the defense. In 2014 Seattle won 13-9, in 2013 it was Seattle 12-7 and in 2012, the Seahawks prevailed 16-12.
Certain odds makers are using those previous results as a baseline to support the Panthers with the points in this weekend's game.
One startling stat stands out though in this matchup. In those previous three games, Carolina had 28 drives against the defense of Seattle and managed to score just one touchdown.
That was playing at home. This weekend playing at CenturyLink Field against a Seahawks teams with two weeks rest and preparation, looks like double-digits to me.