National Championship Game Drawing Bettors' Interest Early
January 7, 2015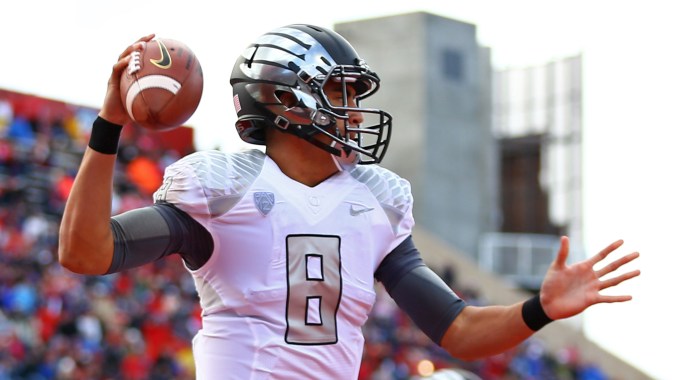 Big money bettors like the Ohio State Buckeyes and a touchdown in the CFP National Championship Game to be played Monday night January 12.
Point Spread
The underdog Buckeyes have drawn substantial action from sharp money bettors prompting a number of sportsbooks to move their lines from Oregon -7 to Oregon -6.5.
However, the move to -6.5 attracted a huge wave of favorite supporters into the mix.
One odds maker said one large group of bettors took the +7, but a number of bettors have decided to lay the -6.5.
On one online site, the spread was down to -6 before money supporting Oregon pushed it up again to -6.5.
Point Total
The point total has gone as high as 75.5 from 73.5 and that has been from public money. Sharp money will follow as the kickoff nears.
The public is known for betting OVER on almost, if not every bowl game. They have been right close to 80% of the time.
Most odds makers believe the number will end up at 75 by kickoff on Monday night.
There are those however, that feel the number will grow and grow until UNDER bettors become interested, which would pull it down once again.
Money line
Quite often in big games, public bettors take their shot on the Buckeyes winning outright. Odd makers however know the tendency of the public and accordingly adjust the money line which means good value on Ohio State is hard to come by betting the money line.
A spread of 7 points implies that the money line on the underdog should end up close to +250, while the favorite should be around -330.
However, some odds makers have Oregon at -275 with Ohio State at +235, while others have -230 and +190, thanks to a number of Ohio State backers.
Thus far, the money line has been nearly all Ohio State, but sharp money will likely head in the other direction and the deal for the favorite will likely become better.
With a spread of 7 points, laying 2 to 1 on the money line is a good bargain, but on Monday the day of the game, it will become even lower and more attractive.