College Football Playoff National Championship Game Record Handle
January 12, 2015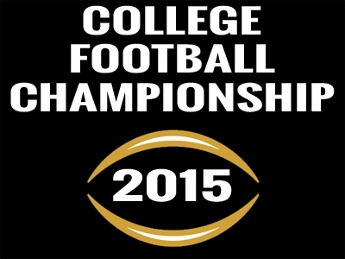 The inaugural College Football Playoff has generated excitement for football fans across the country and for bettors at the betting window.
The College Football Playoff National Championship Game will be played in Arlington, Texas at AT&T Stadium on Monday January 12 with the Oregon Ducks playing the Ohio State Buckeyes.
The game is on pace to have the biggest handle for any college football game in history at many online sports books.
One online betting director estimates the national championship game will have 20% of the handle that last year's Super Bowl had.
In sports books in Nevada, last year's Super Bowl had a total handle of $119.4 million.
Both of the semifinals games – Oregon vs. Florida State and Ohio State vs. Alabama – surpassed the national championship game of last between Florida State and Auburn in number of overall bets placed and total handle.
The game on January 12 is expected to pass the handle for both semifinal games.
Many of the books expect the largest part of the betting to come on Monday, with up to 60% of the overall wagers being placed Monday. The bulk of Monday's wagering will also come just hours prior to the kickoff.
Some books have taken five-figure wagers on this game. Many of the sports books are surprised by how much they have written prior to game day, which means they expect a total hand in the millions of dollars.
To date, none of the bookmakers online or in Nevada has mentioned a wager of six-figures, but there have been a number of wagers between $20,000 and $40,000.
One online sports betting analytical site reported on Sunday that nearly 55,000 bets were placed on the championship game at seven of the larger sports books online that it tracks.
In the semifinal games between Alabama and Ohio State and Oregon and Florida State, each ended with over 100,000 bets.
As of early Monday, Oregon was a 6-point favorite over Ohio State on most sports books.
Oregon opened as a 7-point favorite, but on some sports books that was been bet down to -5 during the final week leading up to Monday's game.
However, late Sunday the point spread starting growing in Oregon's favor.
No actual figures have been released, but many online sports books have said Oregon has taken more than twice the money that Ohio State has taken.