Updated NBA Championship Futures Board Has Atlanta On Top
January 20, 2015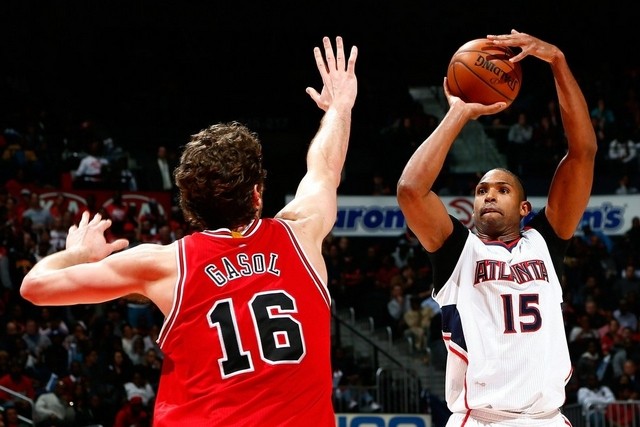 While the NFL is getting all the headlines, the NBA season is at its midpoint and odds makers have released an updated NBA futures board for the NBA championship.
The Atlanta Hawks are surprising the NBA this season. The Eastern Conference leaders are 34-8 on the season and currently riding a 13-game winning streak.
Mike Budenholzer is in his second season as the head coach for the Hawks. He was signed by Atlanta after being an assistant for Gregg Popovich at San Antonio.
However, the Hawks opened as a 60 to 1 long shot to win the NBA championship and few expected the team to rise to the top of the standings, let alone the futures odds board.
Nevertheless, this week at 5 to 1, the Hawks have reached that point.
Atlanta has the second best league record. Golden State is 33-6 on the season, but is 6 to 1 to win the NBA title.
Not only has Atlanta won 13 straight games straight up but they have covered each of the 13 games as well.
The Cleveland Cavaliers are now at 6 to 1 and tied for second with the Warriors just behind Atlanta on the futures board.
Atlanta plays a very sound, unselfish type of basketball and is No. 1 in points allowed on defense at 96.6 per game, No, 6 in points scored at 103.3 per game and No. 2 in assists with 25.8 per game.
At the same time, Cleveland is battling to remain over .500. The Cavaliers are currently 21-20 but continue to remain near the top of the futures board. The acquisitions in the offseason of LeBron James and Kevin Love helped make the Cavs the favorite to win the NBA title at the start of the season at 5 to 2.
The Cavs have won 2 straight, but were 1-7 during a recent stretch while James was resting his injured knee and back.
2015 NBA Championship Futures
ATLANTA HAWKS 5 to 1
SAN ANTONIO SPURS 6 to 1
WARRIORS 6 to 1
CLEVELAND CAVALIERS 6 to 1
CHICAGO BULLS 7 to 1
OKLAHOMA CITY THUNDER 12 to 1
LOS ANGELES CLIPPERS 12 to 1
DALLAS MAVERICKS 12 to 1
PORTLAND TRAIL BLAZERS 18 to 1
MEMPHIS GRIZZLIES 18 to 1