Top NBA Teams ATS Thus Far
January 21, 2015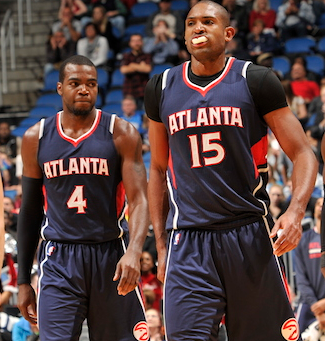 We are almost to the midway point in the 2014-2015 NBA season. Unless you've been betting on the games, quite frankly, the NBA season up to this point hasn't even mattered. But since this is a gambling site, it's a pretty good guess that you have been wagering on some NBA basketball games. Curious to know which teams have been performing well and poorly against the spread up to this point? Let's take a look:
Worst 5 Teams ATS
New York Knicks (14-27-1)
Cleveland Cavaliers (16-26)
Minnesota Timberwolves (16-24)
Los Angeles Clippers (17-25)
Chicago Bulls (18-25)
Best 5 Teams ATS
Atlanta Hawks (31-11)
Golden State Warriors (26-12)
Milwaukee Bucks (27-14)
Phoenix (24-17-2)
Houston (24-18)
What stands out most from this list? The Cleveland Cavaliers have a lot of talent but clearly aren't performing up to expectations. With LeBron James, Kevin Love, and Kyrie Irving teaming up together, most people expected the Cavaliers to run roughshod through the Eastern Conference. However, Cleveland sits at 22-20 and doesn't appear to be on the way up any time soon. Despite Cleveland's rough start, the bettors are still jumping all over the Cavaliers. Perhaps it's time to start betting the other way, folks.
Cleveland is a disappointing team but there are a few teams that are making the bettors and fans quite pleased. The Atlanta Hawks surprisingly have the Eastern Conference's best record, and they just so happen to lead the league ATS. The Western Conference's top team – Golden State – is right behind Atlanta on our ATS list.
Atlanta and Golden State continue to perform better than expected. Steve Kerr is doing a fantastic job in his first year as coach of the Golden State Warriors. And Stephen Curry just keeps getting better and better. This is a team the bettors had better start believing in or they're going to continue losing money betting against them. Ditto for the Atlanta Hawks. Sometimes you have to throw out your preseason predictions and hop on the bandwagon. If you don't, you'll continue losing money. Some teams over-perform and others under-perform.
Teams Expected to Beat the Spread Going Forward
Now that we've established the teams that have are covering and those that aren't, it's time to start looking ahead. There are certain teams that are covering now that won't continue to, and teams that aren't covering that just might turn it around in favor of the bettors. The first team to analyze is the Cleveland Cavaliers. They have been mediocre thus far but their potential is sky high because they have talent. If Cleveland can find some team chemistry, this is a team that will make you some big bucks later on in the season. They won't continue getting so much respect from Vegas. So it wouldn't be too surprising to see the Cavaliers cover at a 60% rate the remainder of the season.
Golden State is an interesting team. They're clearly among the best in the NBA – if not the best. And they've done a fantastic job of covering thus far. Will it continue? The odds are pretty good. Why? Because there are still many bettors out there that don't believe this is a championship team and also they have the league's most potent offensive attack. They can outscore anyone.