NBA Championship Futures Entering the All-Star Break
February 12, 2015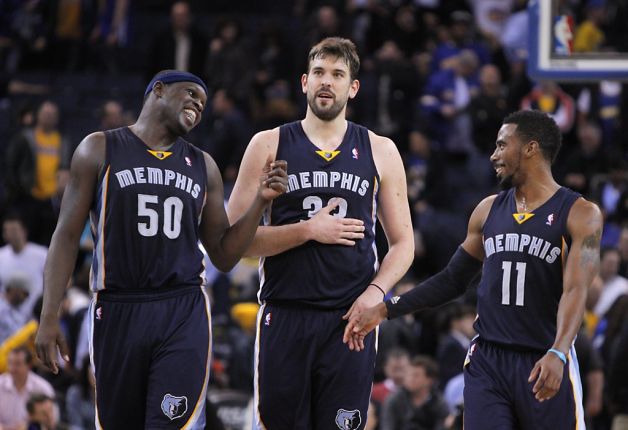 The NBA will break for its annual All-Star weekend starting Friday. The league will not play any regular season games for a week. However, that does not mean that odds makers are not busy at work reviewing the numbers and coming up with new updated futures for the NBA Championship.
The most recent NBA Championship futures board released this week shows some shuffling has taken place for teams in the Western Conference, where the Thunder and Grizzlies had their prices shortened and teams like the Trail Blazers, Clippers and Rockets all moved south. Golden State and Cleveland remain tied with the shortest odds at 7 to 2.
Memphis is in second place in the West just four games behind first place Golden State. The Grizzlies have won 10 of their past 12 games overall. Odds makers adjusted the Grizzlies from last week's 18 to 1 to a current 12 to 1.
Oklahoma City is still battling for the eighth and final playoff spot in the West. However, odds makers reduced the Thunder's odds to 14 to 1 from last week's 25 to 1.
Memphis currently has the league's top defense allowing just 95.5 points a game. Even though Marc Gasol is the only All-Star playing this weekend for the team, Mike Conley and Zach Randolph have helped Gasol carry the Memphis team on both ends of the court.
Oklahoma City now has its two star players Russell Westbrook and Kevin Durant healthy. It appears if the Thunder can keep both healthy, they will be able to qualify for the postseason.
With Phoenix not playing well of late, the Thunder is now just a half game out of the eighth spot out West. The Los Angeles Clippers are currently in sixth place in the West, but are in jeopardy of being caught by San Antonio. The Clippers lost Blake Griffin their leading scorer to elbow surgery. Griffin is expected to be out at least three weeks and possibly longer.
Here are the top ten odds for the 2015 NBA Championship
WARRIORS 7 to 2
CAVALIERS 7 to 2
HAWKS 6 to 1
SPURS 7 to 1
BULLS 9 to 1
GRIZZLIES 12 to 1
THUNDER 14 to 1
CLIPPERS 14 to 1
MAVERICKS 16 to 1
RAPTORS 20 to 1