Updated 2014-15 NBA Championship Odds
February 18, 2015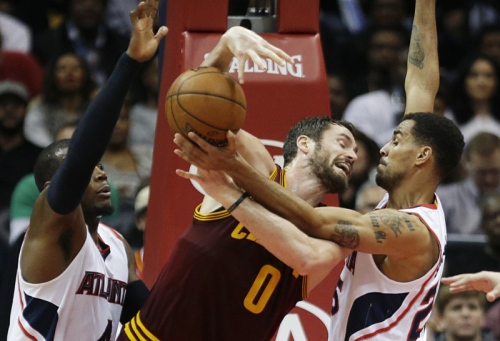 The NBA has reached its theoretical midpoint as teams enjoy six to seven days of rest over the All-Star Game break. Most teams however have played 50 or more games of their 82-game regular season and on Thursday start their stretch run to the postseason.
Odds makers have once again updated their futures for the NBA Championship, but let's take a look to see how the odds have changed since the start of the NBA season back in November.
The Cleveland Cavaliers still have the shortest odds of all NBA teams to win the championship. LeBron James, Kyrie Irving, Kevin Love and Company opened the season with odds of 5 to 2 to win it all and now are sitting at 7 to 2.
The Cavaliers labored through an earlier season losing streak and injuries to LeBron's back and knee, but have lost only twice in their past 16 games overall.
The biggest surprise of the first half of the season in the NBA has been the play of the Atlanta Hawks. The Hawks won 18 straight games earlier this season to move them to the favorite to win the NBA title. They have since settled into third in the overall futures board at 6 to 1. Atlanta had four of its players taking part in the All-Star game.
Overall, the best team over the course of the first 50 games of the season has been the Golden State Warriors. The club opened the season 25 to 1 to win the title. Currently, the club has the league's best overall record at 42-9 and leads the Western Conference by 4 games over the Memphis Grizzlies. Nevertheless, odds makers have the Warriors with the second shortest odds at 4 to 1, just behind the Cavaliers.
The teams that have disappointed this season include the New York Knicks and the Brooklyn Nets. The Nets opened at 40 to 1 and sit at 1000 to 1 currently. The Knicks opened at 50 to 1 and are not even on the board at this point.
2014-15 NBA CHAMPIONSHIP ODDS
CAVALIERS 7 to 2
WARRIORS 4 to 1
HAWKS 6 to 1
SPURS 7 to 1
BULLS 8 to 1
GRIZZLIES 10 to 1
THUNDER 12 to 1
CLIPPERS 14 to 1
MAVERICKS 20 to 1
RAPTORS 20 to 1