Atlanta QuikTrip 500 Odds Released
February 25, 2015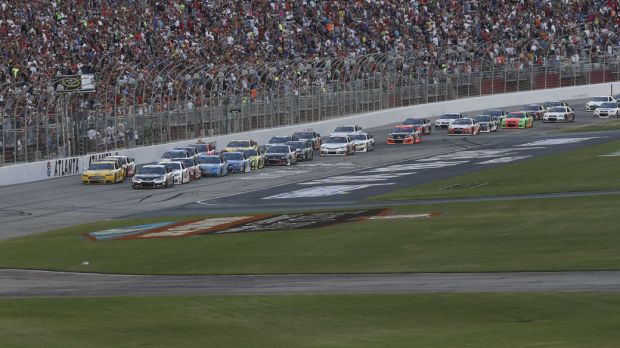 Odds makers have released the odds for the NASCAR Sprint Cup race this weekend with Jeff Gordon and Kevin Harvick as the two favorites in Atlanta.
Gordon will likely make his last NASCAR start in Atlanta this weekend and is listed as the co-favorite with Harvick at 6 to 1 to win Sunday's race. Gordon made his first start on the Speedway back in 1992.
Gordon is not the favorite because he is racing for the last time on this track, but because he has proven over his career to be a strong performer on the track with 5 wins and 5 runner-ups.
Amongst all drivers with a minimum of two starts in Atlanta, Gordon's average finish of 9.9 over the past 20 races is the best. In his 41 career starts in Atlanta, he has an 11.9 average finish, including a 31st place finish in 1992 in his first start.
That race also was the final start for Richard Petty.
Bettors and odds makers this week will have to forecast how the new cars are going to perform and who will have the edge overall.
With the new cars ready to debut, no one is sure what to expect. However, it seems that whenever any new changes take place that Hendrick Motorsports heads the list when it comes to finding speed and that bodes well for Harvick and Stewart-Haas Racing due to its relationship with Hendrick. However, all that will be unknown until they take the track for practice on Thursday.
With the changes starting this week, the best strategy for betting is to take a wait and see attitude until the testing and practice takes place on Thursday. The odds likely will not change that much between now and Sunday's start, but there might be a surprise driver that pops up with strong value prior to the books making their adjustments.
Greg Biffle is sitting at 50 to 1 now, but he might have a strong car and available at that number come Thursday afternoon.
The current top 10 in the odds today are below.
QUIKTRIP 500
JEFF GORDON 6 to 1
KEVIN HARVICK 6 to 1
JIMMIE JOHNSON 7 to 1
BRAD KESELOWSKI 7 to 1
JOEY LOGANO 8 to 1
MATT KENSETH 8 to 1
DENNY HAMLIN 10 to 1
CARL EDWARDS 10 to 1
DALE EARNHARDT JR 12 to 1
KASEY KAHNE 12 to 1