Projected 2015 NCAA Tournament Seedings Based on Odds
March 3, 2015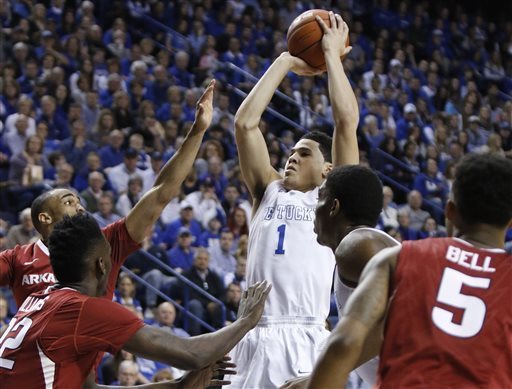 If the NCAA regular season ended today, who would be the top four seeds in each of the four regions? The top seeds according to the latest odds would be Kentucky, Duke, Arizona and Wisconsin.
Selection Sunday is just 12 days away and this is what the seeding for the top five seeds would look like in the 2015 NCAA Tournament if it started today.
Based purely on odds the No. 1 seeds for the four regions would be Kentucky, which is currently 4 to 5 to win the national championship, Wisconsin that is sitting at 6 to 1, Duke at 10 to 1 and Arizona at 10 to 1. The overall No. 1 seed would of course be Kentucky.
Two of the four No. 2 seeds would go to Virginia, which is currently at 12 to 1 to win the title and Arizona sitting at 15 to 1. Three teams are currently at 30 to 1 including Kansas, Utah and Villanova and of the three Villanova and Utah would get the other two No. 2 seeds.
With Kansas getting one of the No. 3 seeds, the other three No. 3 seeds went to Louisville at 40 to 1 and Iowa State and North Carolina both at 50 to 1.
The seeding in this is not meant as an actual projection of what the NCAA Tournament will look like following Selection Sunday, but just one based solely on current odds with a few decisions through in when odds were the same.
Of course, this will likely change over the course of the next 12 days with regular season games and conference tournaments yet to be played before Selection Sunday arrives.
NO. 1 SEEDS
KENTUCKY 4 to 5
WISCONSIN 6 to 1
DUKE 10 to 1
ARIZONA 10 to 1
NO. 2 SEEDS
VIRGINIA 12 to 1
GONZAGA 15 to 1
UTAH 30 to 1
VILLANOVA 30 to 1
NO. 3 SEEDS
KANSAS 30 to 1
LOUISVILLE 40 to 1
NORTH CAROLINA 50 to 1
IOWA ST 50 to 1
NO. 4 SEEDS
WICHITA ST 50 to 1
OHIO ST 60 to 1
OKLAHOMA 75 to 1
NOTRE DAME 75 to 1