Super Bowl 50 Odds Not Affected By Free Agent Rumors
March 10, 2015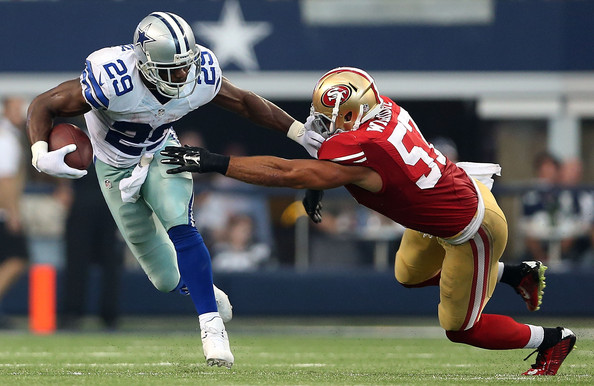 Odds makers have released an updated version of the Super Bowl 50 futures prior to the official opening of NFL free agency on Tuesday March 10 at 4 p.m.
A number of rumored deals have already been made, but none will become official until Tuesday afternoon.
It takes a great deal for futures odds to move in the NFL. Even though Ndamukong Suh will sign with Miami on Tuesday, the price for the Dolphins to win Super Bowl 50 is unchanged from last week when it was 30 to 1. There was only moderate reaction last week from sports books to the trade that will send LeSean McCoy to Buffalo for linebacker Kiko Alonso.
The betting market however, will be paying a great deal of attention to DeMarco Murray and the Dallas Cowboys. With Dallas opting not to use its franchise tag for Murray, he can sign anywhere he chooses. The current odds for Dallas to lift next season's Lombardi Trophy are currently 12 to 1, which is fifth on most futures boards.
Here are some of the rumored free agent signings or trades that will become official Tuesday March 10 at 4:00 p.m.
Jacksonville Jaguars – Julius Thomas – TE – Denver
Jacksonville Jaguars – Jared Odrick – DL Miami
Arizona Cardinals – Mike Iupati – OL San Francisco
Chicago Bears – Pernell McPhee – DL Baltimore
San Diego Chargers – Orlando Franklin – OL Denver
Oakland Raiders – Rodney Hudson – OL – Kansas City
Kansas City Chiefs – Jeremy Maclin – WR – Philadelphia
Miami Dolphins – Ndamukong Suh – DL – Detroit
Philadelphia Eagles – Frank Gore – RB – San Francisco
Philadelphia Eagles – Byron Maxwell – CB – Seattle
Buffalo Bills – Matt Cassel – QB – Minnesota
Buffalo Bills – LeSean McCoy – RB – Philadelphia
Of course, a number of top players have yet to sign with their current team or with another. The odds makers will likely make a few adjustments new week after these previously mentioned transactions become official and other signings take place during the course of this week.
CURRENT SUPER BOWL 50 ODDS
NEW ENGLAND PATRIOTS 5 to 1
SEATTLE SEAHAWKS 6 to 1
GREEN BAY PACKERS 7 to 1
INDIANAPOLIS COLTS 10 to 1
DENVER BRONCOS 12 to 1
DALLAS COWBOYS 12 to 1
PHILADELPHIA EAGLES 20 to 1
DETROIT LIONS 20 to 1
BALTIMORE RAVENS 20 to 1
NEW ORLEANS SAINTS 25 to 1