Is Kentucky Better Off Losing Before the NCAA Tournament?
March 14, 2015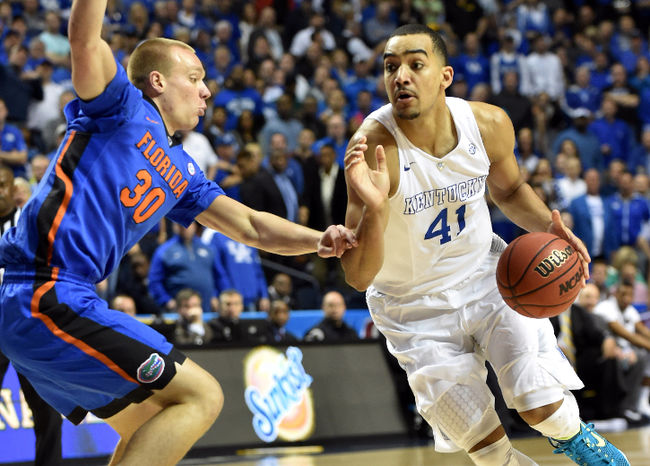 On Saturday the undefeated and No. 1 ranked Kentucky Wildcats meet the Auburn Tigers in one of the two SEC semifinals. The Wildcats are favored by an astronomical figure of 23 points. Kentucky is now 32-0 and with a win today and one tomorrow in the SEC tournament final, the Wildcats could start the NCAA Tournament at 34-0.
The last team to run the table – go undefeated through the regular season and win the National Championship – was the Indiana Hoosiers under the tutelage of Bob Knight in 1976.
A question that many are beginning to ask is if Kentucky is better off losing one of these last two games before the NCAA tournament to relieve so pressure or to go ahead undefeated with all the pressure.
Some see a loss today or tomorrow as a blessing in disguise. If the Wildcats were to lose, they would still be the No. 1 overall seed in the NCAA Tournament and remain the favorite by odds makers to win the national title.
The last loss by Kentucky was the NCAA Championship game last season to Connecticut. Last season, the Wichita State Shockers entered the NCAA Tournament as the only undefeated team carrying a record of 34-0, which would be Kentucky's record if they win out this weekend.
Wichita State won its opening round game last year in the tournament but was defeated by Kentucky in the round of 32. Previous to Wichita State entering undefeated, the last school to enter the NCAA Tournament with no losses was UNLV back in 1991, but they lost during the Final Four. In 1979, Indiana State with Larry Bird was 28-0 when it entered the NCAA Tournament only to lose the championship game.
Just one of the past 6 teams to enter March Madness with a perfect record has won the National Championship and that was the aforementioned 1976 Indiana Hoosiers.
Seven teams in all have won the national championship with perfect seasons including the UCLA Bruins on four occasions. The other two besides the Hoosiers and Bruins were San Francisco and North Carolina.
Kentucky plays Auburn today. With a win, the Wildcats would play the winner of Georgia vs. Arkansas for the SEC title on Sunday. Would losing help them win a national title?