How Far Should You Ride the Mid-Major Wagon
March 18, 2015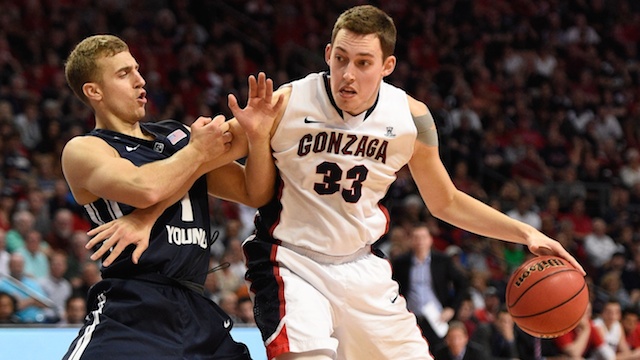 Keep taking the high seed, mid major and you will lose nearly every time. Gonzaga the West Region No. 2 seed in the NCAA Tournament is not a stranger to being one of the high seeds. However, the question is how far should one take the Bulldogs in the bracket. In addition, what about other mid majors that are note-worthy like Northern Iowa and Wichita State.
When it comes to mid-majors there are a number of things to take into consideration. In the past five NCAA Tournaments, 11 schools from the mid-major conferences have been seeded No. 4 or better. However, none of those 11 schools advanced beyond the Sweet 16.
The numbers have been worse over the past two years. Five teams considered mid-majors – Gonzaga, St. Louis, Wichita State, New Mexico and San Diego State – were all seeded at No. 4 or higher with only San Diego State reaching the Sweet 16.
The Gonzaga Bulldogs have earned a No. 4 seed or higher on five occasions under coach Mark Few. In 2004, as a No. 2 seed, the Bulldogs lost in the second round, in 2005 as a No. 3 seed and in 2013 as a No. 1 seed. In 2006, as a No. 3 seed, the Bulldogs reached the Sweet 16. Taking Gonzaga behind the Sweet 16 this season could be risky
George Mason in 2006, Butler in 2010 and 2011, VCU in 2011 and Wichita State in 2014 also reached the Final Four over the past few season, but none had been a No. 4 seed or better. The Patriots and Rams were No. 11 seeds, the Bulldogs were No. 5 and No. 8, while the Shockers were No. 9.
This scenario bodes well for Northern Iowa this year as the team is No. 5 and for Wichita State at No. 7. Both teams will not have the pressure of being a higher seed.
Out of the 19 schools in mid-major conferences that were seeded No 4 or better since 2005 in the NCAA Tournament, only two have reached the Final Four. The two teams were from the Conference-USA and were Louisville back in 2005 and Memphis State in 2008. Louisville now plays in the ACC.