Latest NCAA National Championship Futures
March 25, 2015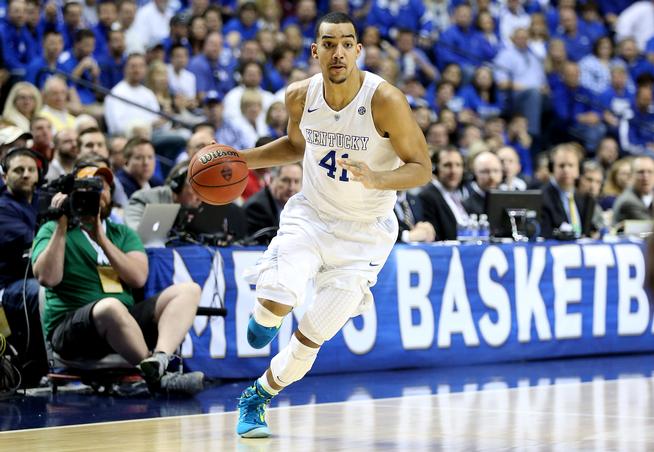 With the Sweet 16 starting on Thursday, odds makers have released the latest updated odds for the NCAA national championship. There is no surprise what team is sitting on top since there has been just one team on top since the preseason odds were released months ago.
The Kentucky Wildcats remain the team with the shortest odds to win the national title at even-money, the same odds they had last week prior to the start of the NCAA Tournament.
However, Arizona has moved up the board and now has the second shortest odds at 5 to 1 on most futures boards. Arizona is the West Region's No. 2 seed, but has jumped past Wisconsin the No. 1 seed in the region, which is not sitting at 7 to 1 to win the national championship.
In the Sweet 16, Arizona will face Xavier, while Wisconsin must go up against a tough North Carolina team that is 25 to 1 to win the national title.
Michigan State a No. 7 seed saw its odds changed to 12 to 1 from 60 to 1, which puts the Spartans in front of the likes of Oklahoma as well as Louisville, the East Region's No. 3 and No. 4 seeds. Despite being a lower seeds, the Spartans are favored in their Sweet 16 matchup with Oklahoma on Friday.
Duke has the South Region's shortest odds to win the national title at 6 to 1. Duke's odds have not changed since the tournament began last Thursday.
The field will quickly be reduced to just eight by late Friday night after the Sweet 16 round of games is played Thursday and Friday. The Elite Eight will drop to four by Sunday afternoon when the last updated NCAA futures board will be released with the four remaining teams.
2015 NCAA Tournament Futures
Kentucky Wildcats even-money
Arizona Wildcats 5 to 1
Duke Blue Devils 6 to 1
Wisconsin Badgers 7 to 1
Gonzaga Bulldogs 12 to 1
Michigan State Spartans 12 to 1
North Carolina Tar Heels 25 to 1
Utah Utes 25 to 1
Louisville Cardinals 25 to 1
Oklahoma Sooners 30 to 1
Wichita State Shockers 30 to 1
Notre Dame Fighting Irish 35 to 1
NC State Wolfpack 60 to 1
West Virginia Mountaineers 75 to 1
Xavier Musketeers 75 to 1
UCLA Bruins 100 to 1