Final Four: Kentucky Opens as 6-Point Chalk Against Wisconsin
March 29, 2015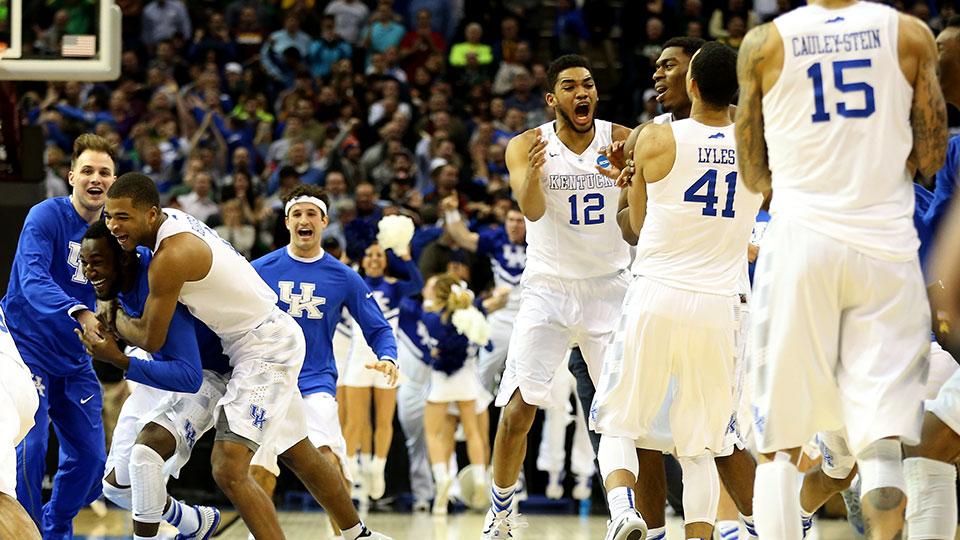 As is the case many times, championship teams have on big scare during their run to a national championship. On Saturday, the 38-0 Kentucky Wildcats experienced that scare at the hand of the Notre Dame Fighting Irish.
Kentucky trailed for much of the second half, but got two crucial foul shots from Andrew Harrison with just six seconds left on the clock to give Kentucky its margin of victory of two-points as the Wildcats defeated the Irish 68-66 and moved on to the Final Four.
Just minutes after Kentucky had won its battle with Notre Dame, odds makers posted the Wildcats a favorite of between -6 and -6.5 points against Wisconsin in their Saturday national semifinal.
This will be just the second time all season that Wisconsin will be the underdog in a game. The first time this season was on Saturday, when the Badgers were 1.5-point dogs against Arizona but won outright by 7 points 85-78.
The point spread to open between Wisconsin and Kentucky follows a number of the power ratings that show on a neutral court, Kentucky is over 6 points better than Wisconsin. This year's Final Four will be played in Indianapolis.
Many of the spreads Kentucky had all season were inflated by between 2 and 3 points, but next Saturday's game will not have any extra inflation built in as Kentucky showed a crack in its armor in its narrow win versus the Fighting Irish.
If this current spread holds, it will end up being the shortest number Kentucky has laid as chalk since December 27, when the Wildcats were 5-5-point chalk at Louisville in a game they covered 58-50.
This season, when a favorite by single digits, Kentucky is 3-3 ATS. However, the Wildcats are 0-3 in its past three games with those parameters.
However, Kentucky could come out and blow Wisconsin off the court after experiencing such a scare against Notre Dame and knowing that just two wins stand between them and a national title and a 40-0 season.