My Exclusive SkyBook.ag Online Sportsbook Review
March 30, 2015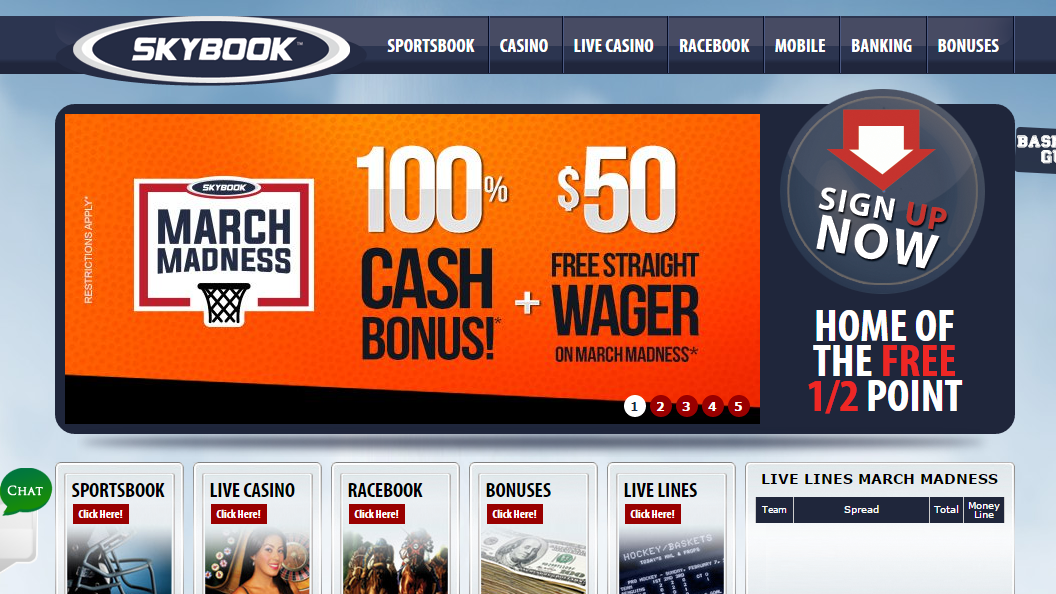 By contributing writer Jon S.
So you're thinking about trying a new online sportsbook and aren't sure where to wager? I've got a site I recently started using and can't wait to tell you about. That site is SkyBook.ag . In this review, I'm going to share with you my experience using SkyBook.ag and tell you exactly why I think you should give it a try. Don't head over there just yet to get started. I want you to read through this review first just to be sure this is what you're looking for. Let's get started!
Sign-Up Bonus Information
I tried out 3 new online sportsbooks (new to me, not to others, by the way) recently and found all 3 to have some valuable bonus programs. First off, you're going to receive a 100% match bonus on your first deposit. Now, let's say you have some horrible luck and the sports betting gods are working against you, so you blow through your deposit and the free money received. Don't worry! SkyBook.ag  is going to give you a nice reload bonus in the same amount on your next deposit. On top of that, you'll get a 25% matched free play just for referring your friends and family. I referred my brother last week and got a $50 free bet out of it. Pretty cool deal.
What Others Say About SkyBook.ag
SkyBook.ag has been online a long time but didn't they change ownership? Yes. They were bought by the Bet Phoenix brand and have been in good hands ever since. Upon talking to many of their long term clients I discovered was that nearly everything they had to say about this online sportsbook was positive, so that's a good thing. I was definitely excited to try it out. But I had to see for myself that what they said was accurate. Shortly after making my first deposit, I knew right away this was going to be a place I would come to gamble for a long time.
Sporting Events on the Board
Finding a game to wager on won't be difficult at SkyBook.ag. I checked out their list of sporting events and couldn't find any that sports bettors would be interested in wagering on that weren't on the betting board. Among many others, here are the sports you can wager on at SkyBook.ag :
NFL
NASCAR
Boxing
Tennis
NHL
PGA Tour
NBA
MLB
Champions League
And more
SkyBook.ag Company Information
SkyBook.ag is owned by, but is a different brand of the popular BetPhoenix.ag company. Basically, BetPhoenix.ag  expanded and acquired Skybook and the sportsbook is run separately. Each spin-off casino offers something a little bit different than the others, and that's a good thing.
SkyBook.ag  is a full-service casino and sportsbook. What I mean by that is they have virtually every type of wagering option imaginable. You can make straight bets, parlays, teasers, futures, etc. And if you ever get bored of betting on sports, you can switch over to the casino and test your luck on slot machines, video poker, and table games.
Skybook.ag Review – Conclusion
You don't have to be a rocket scientist to figure out by now that I like SkyBook.ag . I like almost everything about this online sportsbook, from the quality software to the customer service to the favorable parlay and teaser odds. I like it all. So if you want to try something new, I definitely give this a high recommendation. Get signed up and don't forget to refer your friends so you'll get a free bet bonus!
This article was written by a contributing author in the year 2015.