$1M Futures Ticket Cashes if Mich St. Wins it All
March 31, 2015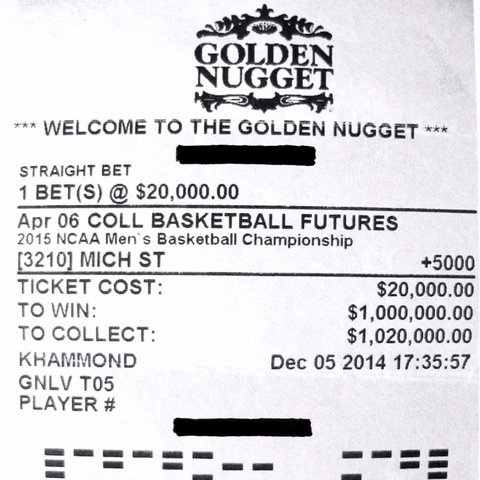 A Las Vegas man named Derek Stevens popped into the Golden Nugget Casino located in Las Vegas back in December looking to place a bet on Michigan State. His goal was to win a millions dollars. At the time Michigan State was 50-1 odds on futures. The bet, having been approved by the Golden Nugget owner, was risking $20,000 to win $1,000,000.
Now, here we are five months later and Michigan State is just two wins away from winning it all. The problem for Mr. Stevens is that The Spartans will be underdogs in both games. But never say never.
Now, if you are wondering how anyone could be crazy enough to risk $20,000 on a 50-1 futures bet, then wonder no more. Mr. Stevens owns his own hotels right there in Las Vegas and a property on either side of The Golden Nugget and it wouldn't make sense betting at his own location. So, he just heads next door. Money is relative. If you are worth tens of millions of dollars then $20,000 is probably like $20 to you and me.
Golden Nugget director Tony Miller : ""In my nine years at this sportsbook, I never accepted a bet that could result in us paying $1 million, the most I've ever seen won here was a $100,000 parlay."
I would normally be screaming "Hedge your bets!!!" But the guy own hotels in Las Vegas. My advice is to let it ride.