Final Four: Kentucky In Rematch with Wisconsin
April 3, 2015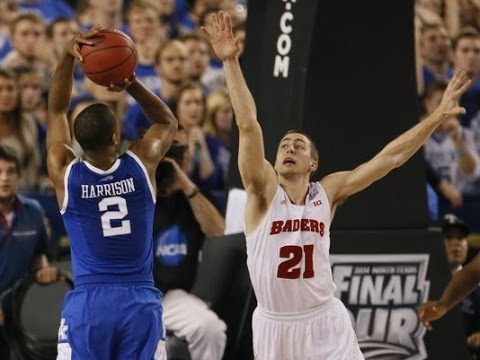 The Kentucky Wildcats play the Wisconsin Badgers in one of the two Final Four NCAA Tournament games on Saturday April 4. This will be the second consecutive season the two teams have met in the Final Four.
A topic of great interest this week has been the point spread in this matchup as it has moved in the direction of the underdog Badgers, despite the 38-0 record Kentucky is sporting.
The current line has Kentucky by 5 points with the point total sitting on 131. The Wildcats opened last Saturday on most sportsbooks as -6 to 6.5-point chalk before seeing the line bet down to its current -5. The total even started higher at 133.5 has gone to its current 131 and could even be at 130 by game time on Saturday.
Last season, Kentucky was just a No. 8 seed but defeated Wisconsin a No. 2 seed 74-73 as a favorite by one-point. James Randle who is now in the NBA led the Wildcats that day in scoring with 17 points. Willie Cauley-Stein one of this season's best big men in the country, could not play in this game for Kentucky last season due to an injury.
Wisconsin last reached the national championship game in 1941. Kentucky on the other hand lost last season in the title game to UConn, but won the national title as recently as 2012. This is the Wildcats fourth trip to the Final Four in the past 5 years.
The OVER has gone 3-1 in Wisconsin games in the tournament, with Wisconsin averaging 80 points per game, while giving up nearly 72 points per game.
The UNDER has gone 3-0 in the past three Kentucky games with the Wildcats scoring 70 points per game and allowing just 52.
Kentucky is just 1-3 against the number in its four games this season in the tournament. Kentucky escaped a huge upset by Notre Dame with a 68-66 win over the Irish in their Elite 8 matchup.
Kentucky will have a size advantage at the guard position as both Harrison twins are 6-foot-6. The Wildcats have much more depth playing as many 10 players.
The Wildcats will look to go inside to both Cauley-Stein and freshman Karl-Anthony Towns in an attempt to get Wisconsin's All American Frank Kaminsky in foul trouble and to tire him out so he is not as effective on the offensive end.
Lean: Kentucky less the points