Tiger Still Loved by Bettors
April 9, 2015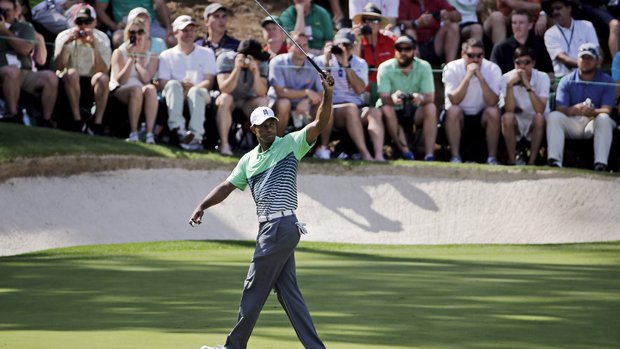 On Thursday morning, one of golf's greatest events will begin as the Masters from the Augusta National Golf Club tees off with the top names in golf vying for the coveted green jacket.
Regardless of how he is playing, the public bettor loves Tiger Woods. Support for the former No. 1 player in the world and the winner of 14 majors continues ahead of the start on the tournament on Thursday.
Bettors have bet down his odds by 50%. Tiger is now 25 to 1 to win on a number of futures boards on the morning of the tournament. When April began just 9 days ago, Tiger's odds were 50 to 1 and to start this week had been bet down to 40 to 1, before most books cut them to their current 25 to 1 on Wednesday.
In prop betting, Woods has been bet from even money to -150 on making the cut and from +350 to 2 to 1 to be a top 20 finisher.
Despites his dubious prospects this week at Augusta, the public seem to be compelled to bet on him. People know all about Tiger and they have seen him play very well in the past at Augusta. Most of the fans and bettors want him to play well again. Therefore, when they see his is 40 to 1 they think they must bet on him at that kind of price.
The favorite heading into the tournament remains Rory McIlroy who is 6 to 1 to win. At this point, he is the sole golfer with odds in the single digits to win the Masters this season. The next closest golfer is Jordan Spieth at 10 to 1.
Woods is now leading the Masters field in the number of bets and most books have a large amount of liability on the golfer heading towards the opening tee off early Thursday morning.
2015 MASTERS ODDS
RORY McILROY 6 to 1
JORDAN SPIETH 10 to 1
BUBBA WATSON 12 to 1
JASON DAY 12 to 1
DUSTIN JOHNSON 12 to 1
ADAM SCOTT 15 to 1
HENRIK STENSON 20 to 1
PHIL MICKELSON 20 to 1
JIMMY WALKER 20 to 1
PATRICK REED 20 to 1
TIGER WOODS 25 to 1