Jordan Spieth Odds on Favorite to Win Masters
April 11, 2015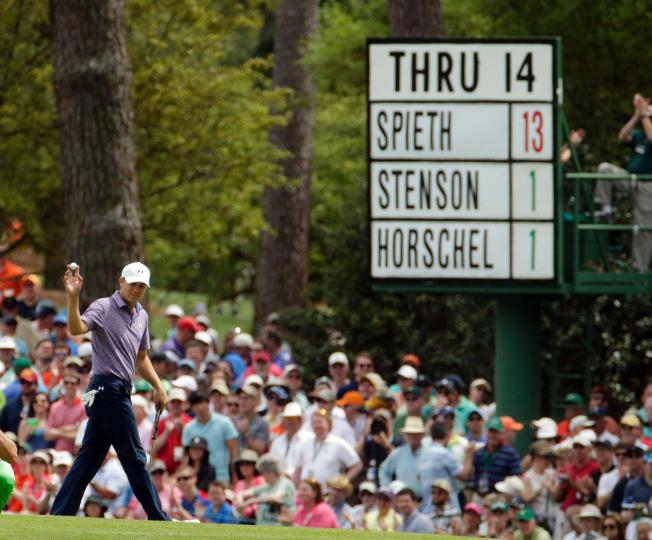 The 2015 Masters enters the third round on Saturday. In the second round on Friday, Jordan Spieth recorded a 6-under par 66. The 21-year old now holds a lead of five strokes following 36 holes, while setting a record at the Masters at 140 under through the first two rounds. Charley Hoffman at 9-under is alone in second.
Last season, Spieth was contending for the Masters title, but faded during the final round. In the history of the Masters, only four golfers have won the tournament wire to wire in the 78 times it has been played. Those golfers include Raymond Floyd in 1976, Jack Nicklaus in 1972, Arnold Palmer in 1960 and Craig Wood in 1941.
The product from the University of Texas was up to 12 to 1 on some books prior to the start of the tournament, but took a large amount of late action to close at 8 to 1 Thursday morning before the tournament began.
After Spieth's effort on Friday, odds makers at a number of sportsbooks offshore and in Vegas pushed Spieth down to just -250 or 2 to 5 to win.
The golfer with the most attention leading up to the tournament was Tiger Woods. After the second round was completed on Friday, Woods was at 3-under and in 19th place.
Woods, who is a favorite amongst the public bettors, was bet down to 18 to 1 prior to the start of the tournament but is now sitting at 85 to 1 after three rounds.
Saturday in most golf tournaments is known as moving down. This is a round where players try to move up the leaderboard, to prepare for the final round of action on Sunday.
The pressure will start to build on Spieth to hold the lead, while players that are further back can play a bit more relaxed shooting at pins attempting to shorten the distance between them in the young Texan.
Odds to win Masters
Jordan Spieth 2 to 5
Dustin Johnson 15 to 2
Paul Casey 13 to 1
Charley Hoffman 15 to 1
Justin Rose 15 to 1
Phil Mickelson 40 to 1
Adam Scott 50 to 1
Rory McIlroy 50 to 1
Jason Day 65 to 1
Bubba Watson 70 to 1