Nationals With Shortest Odds to Win World Series, Dodgers Second
April 12, 2015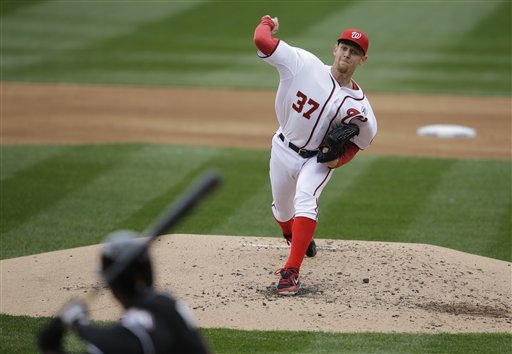 The 2015 Major League Baseball season has finally arrived after a long winter. There are teams with high expectations and some hope for everyone.
A number of odds makers are high on the Seattle Mariners, Washington Nationals and Los Angeles Dodgers. However, to start the season, the Boston Red Sox have impressed, along with the Detroit Tigers, Atlanta Braves and the Colorado Rockies.
Nevertheless, odds makers had the Washington Nationals and their impressive starting rotation at the top of the heap to win the World Series.
The Nationals are currently at 13 to 2 to win the World Series, second on the list after the first week of the 162-game regular season is the Los Angeles Dodgers.
The Dodgers have a very strong starting rotation as do the Nationals and their batting order is expected to be even stronger this season than last season. Already this season first baseman Adrian Gonzalez has one game with three home runs for the Dodgers.
In the American League, the Boston Red Sox have started strong and are currently 12 to 1 to win the World Series behind just the Nationals and Dodgers. Boston is off to a strong start winning 3 of its first 4 games.
The Detroit Tigers are tied for third on the futures board to win the World Series also at 12 to 1 with Boston. Detroit has lived up to its short odds having won its first four games coming out of the gate.
The Seattle Mariners were considered one of the best teams in the American League starting the season and had the third shortest odds to open the regular season.
However, the Mariners have started the season slow losing 3 of their first 4 games and have dropped down the futures board to seventh at 14 to 1 to win the title.
The season is long and injuries can play a big part in how teams finish therefore odds will be shortened and lengthened the entire season.
Here are the latest odds for the 2015 World Series
Washington Nationals 13 to 2
Los Angeles Dodgers 17 to 2
Boston Red Sox 12 to 1
Detroit Tigers 12 to 1
St. Louis Cardinals 12 to 1
Los Angeles Angels           14 to 1
Seattle Mariners 14 to 1
Chicago Cubs 16 to 1
Baltimore Orioles 20 to 1
Oakland Athletics 20 to 1