Updated Futures for Heisman Trophy and National Championship
April 13, 2015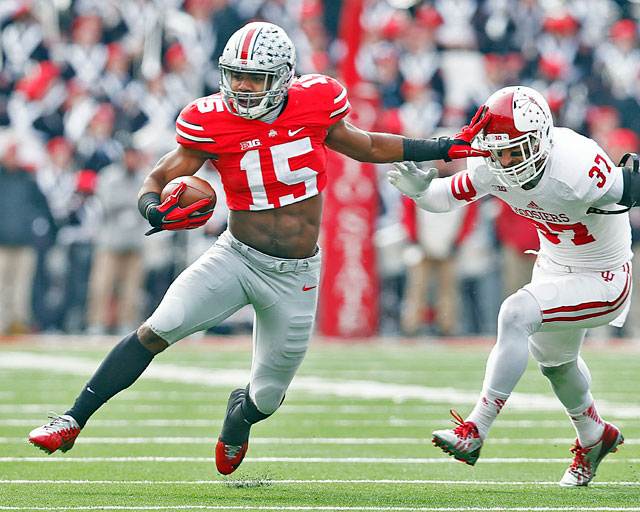 The NCAA basketball season just came to an end a week ago. The NBA is ending its regular season this week and Major League Baseball has just begun its 162-game regular season.
It has been just three months since the Ohio State Buckeyes won the 2015 College Playoff and national championship. The season does not start until early September, but that does not keep odds makers from handing out futures for the 2015 Heisman Trophy and the 2015-15 national champion. The Heisman is college football's most prestigious individual award and is awarded each December.
When the number came out for the first time over two months ago, there were no surprises that a quarterback was favored to win. Trevone Boykin was the top choice of odds makers. The quarterback from Texas Christian University is a dual threat who runs as well as he passes the ball.
Following Boykin is Ezekiel Elliott a running back for Ohio State. Since the first release of the futures for the Heisman Trophy Elliott has leapfrogged Boykin and is now leading the odds maker's futures for the Heisman Trophy at 6 to 1, while Boykin dropped to fourth at 15 to 2.
Ohio State has three quarterbacks who all have a chance to win the coveted Heisman. Cardale Jones is 10 to 1, J.T. Barrett is 25 to 1 and Braxton Miller is 25 to 1.
Another solid choice is Dak Prescott the talented dual threat quarterback from Mississippi State who competed last season against eventual winner Marcus Mariota.
Odds to win 2015 Heisman Trophy
Ezekiel Elliott 6 to 1
Dak Prescott 7 to 1
Leonard Fournette 15 to 2
Trevone Boykin 15 to 2
Nick Chubb 9 to 1
Cardale Jones 10 to 1
Cody Kessler 12 to 1
Deshaun Watson 14 to 1
Samaje Perine 14 to 1
J.T. Barrett 16 to 1
The National Championship futures that were released over two months ago are updated when there is movement on the board. The futures board has Ohio State on top followed by Alabama, TCU and USC.
2015-16 National Championship
Ohio State 4 to 1
Alabama 7 to 1
TCU 9 to 1
USC 12 to 1
Auburn 14 to 1
Baylor 20 to 1
Oklahoma 20 to 1
Oregon 20 to 1
Clemson 22 to 1
Georgia 25 to 1
Michigan State 25 to 1
Notre Dame 25 to 1