Props Available for the 2015 NFL Draft
April 16, 2015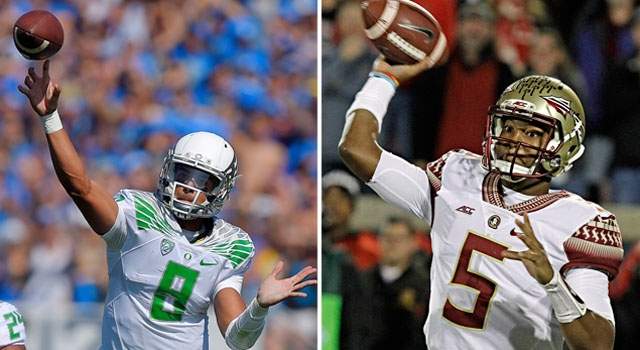 On April 30, the NFL Draft will be start in Chicago with the Tampa Bay Buccaneers holding the No. 1 overall pick. Jameis Winston and fellow quarterback Marcus Mariota are two of the draft's top prospects. Both players are projected to be picked early in the draft. NFL draft bettors now can wager on when the two will be selected and where the two will be pick.
Over the past couple of years, there has been a great deal of interest in bringing back props for the NFL Draft. This in the past has had its conflicts with mainstream media in the U.S., but discussion and interest around the NFL Draft is bigger each year along with the amount of betting action.
Most NFL experts believe that Winston will be a higher pick that Mariota will be. On sportsbook.ag, Winston is listed as an overwhelming -400 favorite to be picked prior to Mariota who is at +250. This site has an entire list of available props for the 2015 NFL Draft.
The strange thing is that Mariota was favored just after the College Football Playoff in January to be chosen before Winston by just about the same odds. Now after the NFL combines Winston had moved up to the favorite spots well ahead, odds wise, of Mariota.
NFL Draft insiders say that Winston appears more NFL ready and teams in the NFL near or at the top of the board are in need of immediate improvement at quarterback, one of which is Tampa Bay.
The draft position Mariota is taken is much less certain but there is a strong possibility that teams will trade up to draft him. Currently Mariota's over/under draft spot is 3.5.
Kevin White and Amari Cooper have also been matched up as the top receivers in the draft and both are expected to be chosen in the top 10. Melvin Gordon and Todd Gurley two of the top running backs in the draft have been grouped together in the available props for the draft. Gordon is expected to be a late first round pick.