NBA Playoff Seeds Based on Odds to Win the Finals
April 17, 2015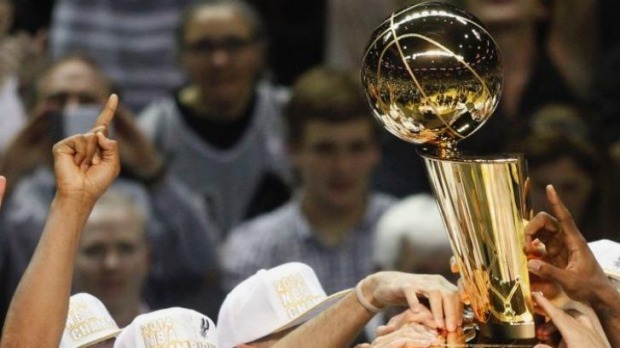 The NBA playoffs have finally arrived. After a regular season of 82 games, just 16 teams remain to battle it out for the NBA Championship. Leading the group of 16 are the Golden State Warriors. The Warriors ended the regular season with an overall regular of 67-15 becoming just the tenth team in NBA history to win 67 games in one season.
The Warriors lead a deep Western Conference. In the conference, each of the eight teams that qualified for the postseason was over .500. Golden State ended their season 52 games over .500, while eighth place New Orleans was 8 games over .500.
In the East, the Atlanta Hawks raced out to a huge lead in the conference in the first half of the season. The Cleveland Cavaliers moved up during the second half of the season to cut into Atlanta's lead but could not catch the Hawks. Nevertheless, the Cavaliers had the best record in the conference over the second half of the season. Just the first six teams were .500 or better in the Eastern Conference.
At this time of the season, many criticize the NBA for the way they seeds the playoffs. Doc Rivers, the head coach for the Los Angeles Clippers is the latest to do so. He believes the NBA puts too much emphasis on a team winning its division, when won/loss records overall should mean more when it has to do with playoff seeding.
Others in the past have suggested the conferences be done away with and make seeds No. 1 through No. 16 based only on won/loss records.
If the playoffs were set up by odds makers based on the shortest versus longest odds to win the NBA Championship then the Cavaliers, the team with the shortest odds would be playing the Milwaukee Bucks, the team with the longest odds of the 16 left playing.
This is how it would look with shortest odds versus longest odds, but remember this is all hypothetical and the real matchups are far different.
No. 1 Cleveland (9 to 4 odds) vs. No. 16 Milwaukee (200 to 1 odds)
No. 2 Golden State (5 to 2) vs. No. 15 Brooklyn (200 to 1)
No. 3 San Antonio (4 to 1) vs. No. 14 Boston (200 to 1)
No. 4 Atlanta (12 to 1) vs. No. 13 New Orleans (100 to 1)
No. 5 Chicago (14 to 11) vs. No. 12 Washington (60 to 1)
No. 6 LA Clippers (14 to 1) vs. No. 11 Dallas (60 to 1)
No. 7 Houston (14 to 1) vs. No. 10 Toronto (50 to 1)
No. 8 Memphis (25 to 1) vs. No. 9 Portland (50 to 1)