Odds Makers: Bettors Backing Mayweather Jr.
April 20, 2015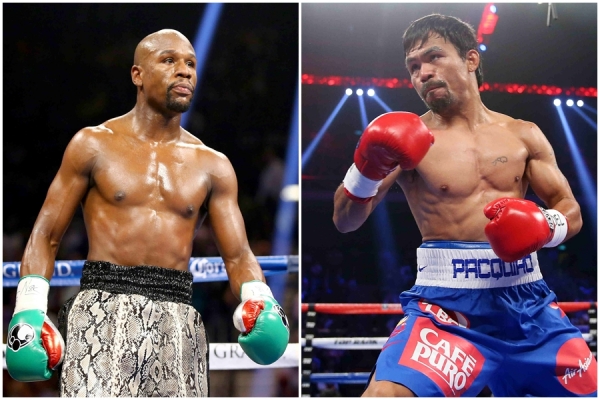 In what has been called by many as the fight of the century and by others as the biggest fight in 50 years in, Floyd Mayweather Jr. will meet Manny Pacquiao on May 2 to unify the welterweight championship in Las Vegas at the MGM Grand.
While the action early on the fight was heavy on Pacquiao, the underdog, the odds dipped enough on Mayweather where bettors began seeing value and jumped on the opportunity.
Back in December before the fight was even officially announced some bookmakers made Mayweather the favorite at -260, but strong money for Pacquiao helped push that price down to as low as last week's -185. However, since then, the line has moved back in the direction of Mayweather. At this time, most odds makers have Mayweather back up to -215, with Pacquiao sitting on +185.
One odds maker said the fight has now leveled out with plenty of Mayweather money coming in of late. A number of odds makers believe that the line will continue in this direction making Mayweather an even stronger favorite than what he opened at back in December.
Bettors have supported Mayweather at -200 and -205 according to some online sportsbooks and the action is expected to continue for the undefeated champion, who will put his 47-0 record on the line May 2.
Bookmakers are expecting six figure bets to start coming in at some time on Mayweather, but do not forget his opponent, as Pacquiao is expected to have his big six-figure supporters as well.
There have been a number of new betting props for the fight listed on online sites as well as in Vegas on the run up to the bout. The handle is expected to be one of the biggest in boxing history.
ODDS TO WIN
MAYWEATHER JR. -215
PACQUIAO +185
TOTAL ROUNDS
UNDER 11 1/2 +270
OVER 11 1/2 -330
EXACT RESULT
PACQUIAO – KO, TKO OR DISQUALIFICATION 5 to 1
PACQUIAO – DECISION 9 to 2
MAYWEATHER JR. – KO, TKO OR DISQUALIFICATION 9 to 1
MAYWEATHER JR. – DECISION  5 to 8
DRAW – 8 to 1