Sprint Cup Heads to Richmond for Toyota Owners 400
April 24, 2015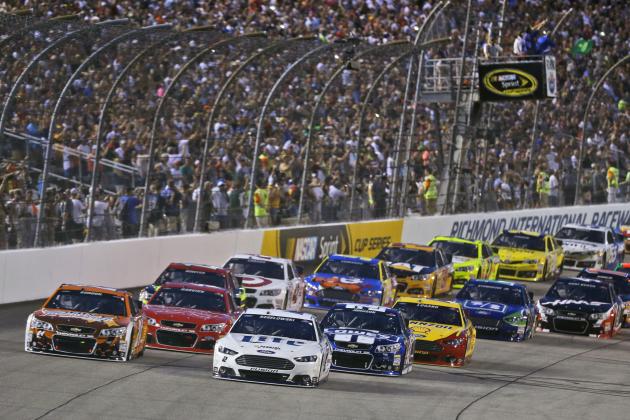 Saturday night the NASCAR Sprint Cup heads to Richmond International Raceway for the Toyota Owners 400. For those trying to handicap the results it is best to analyze the results from the race in Phoenix on March 15.
Over a period of years, the three flat tracks at New Hampshire, Phoenix and Richmond with layouts that are between ¾-mile to 1-mile have shown on a consistent basis that if a driver has success on one, he will likely have the same on the other two.
The race comes down to the set-up as well as balance of the vehicle. If a crew chief is able to get the perfect set-up, the same holds true for the other tracks. A number of teams take the same chassis to each of the three tracks if they performed well.
Kevin Harvick won both races in Phoenix last season and Brad Keselowski and Joey Logano each were victorious in New Hampshire and Richmond. Harvick in 2013 won at Richmond and Phoenix. In 2006, he was victorious in four of six races between the same three tracks.
At Phoenix last month, Harvick dominated by leading 224 of 313 laps. He was victorious for the fourth consecutive time on that track and the seventh time overall in his career in Phoenix.
Due to his dominance in Phoenix and the fact he has led 950 laps thus far early in the season, it is not difficult to understand that odds makers have made Harvick the favorite once again for Saturday night's race under the lights.
Harvick is 9 to 2 to win. Harvick has separated himself from the rest of the drivers as Jeff Gordon did back in 1998 when he was victorious in 13 races.
Harvick thus far on the season only has two wins, but he has dominated races. If he reaches 1,000 laps led this week, and he needs just 50 to do so, he will be just the ninth driver to do so in the history of the series in nine races.
He has won three times on this track and in his 28 starts here has an average finish of 11th.
Others to watch include Keselowski, Logano, Kurt Busch and Jimmie Johnson.