Mayweather Jr. vs. Pacquiao Betting Props
April 27, 2015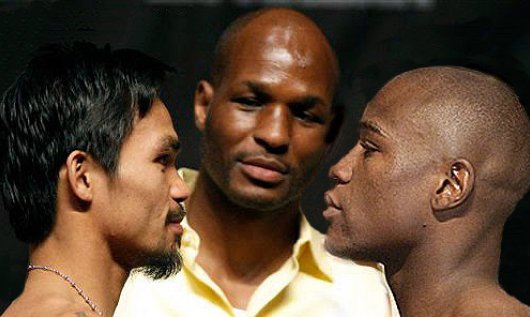 Bookmakers have become creative ahead of the welterweight championship unification bout between Floyd Mayweather Jr. and Manny Pacquiao. The bout is scheduled for May 2 and is just 5 days away. Offshore sportsbooks and Vegas bookmakers have plenty of props for bettors to choose from.
The props are a way for the sportsbooks and casinos to increase their overall handle but these props are ones not normally seen for a boxing match.
Bookmakers have become a bit more creative with the highly anticipated fight that is expected to break all financial records with regard to gate receipts, pay-per-view sales, merchandise sales and overall betting handle.
Traditionally boxing is bet using the moneyline as well as the over/under for the number of rounds the fight will go, with that total often times set at 11.5 for a 12-round bout.
However, for the fight between Mayweather and Pacquiao, books have decided to go outside the box by offering a number of options like knockdown props (will both or at least one be knocked to the canvas), alternative round props and the judges' scorecards over/under.
One sportsbook put the OVER at 4.5 pounds, along with the 11.5 that is more conventional. The 4.5 rounds OVER has a huge -800 price, but has already attracted action.
Another popular prop thus far on some sites is a bet of yes/no on if there will be at least one boxer knocked down. On that prop, the NO has opened at -180. The Yes has already taken in money.
Bettors can also bet on if both of the fighters will be knocked down, with the opening line No -2500 and Yes +2500. The No has been bet down already to -2000 and the Yes to +1300.
Other casinos and offshore sites have posted the judges scorecard totals offering Mayweather at 345.5 and Pacquiao at 335.5. Since the 10-point must system is in play, the largest total a judge's scorecard could be is 360.
Most of the prop bets for casinos and offshore sites are in the $20 to $30 range with some even lower, with a minimum of $10. Some have come in higher at $100 with even a few over one thousand dollars.
Small bets usually are for long shot with someone just hoping to catch some luck.