Updated NBA Futures: Cavs Remain No. 2 Even With Love Injury
April 28, 2015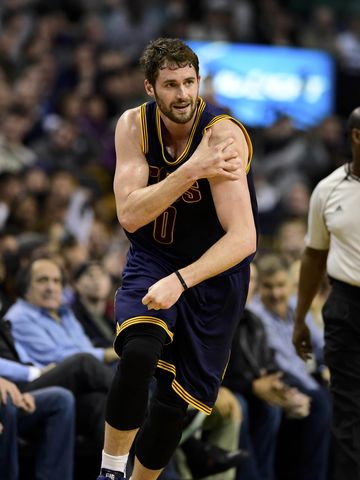 Bookmakers have released an undated NBA Championship Futures lineup and have opted to take an approach of wait and see when it comes to Kevin Love's injury. Cleveland will not have Love in the lineup for the entire second round series.
Love dislocated his shoulder in Sunday's win that clinched the first round for the Cavaliers over the Boston Celtics. That means Cleveland will be without Love for the next series, and possibly longer. In addition, Cavaliers' guard J.R. Smith was given a suspension of two games for hitting Jae Crowder a forward for Boston with a forearm to the face.
However, bookmakers are holding off on lengthening the odds for Cleveland. The Cavaliers are 2 to 1 to win the NBA title and remain the second favorite behind just the Golden State Warriors. Chicago is likely Cleveland's next opponent. The Bulls have a 3-2 series lead over Milwaukee after losing on Monday night to the Bucks in Game 5. Against a big frontcourt like the one the Bulls have, Love's size is crucial for Cleveland.
A book does not have any risk keeping the odds low for Cleveland. If the odds are lengthened on Cleveland then the books expose themselves to larger payoffs if the injury to Love proves less serious than thought.
The San Antonio Spurs are the third favorite at 8 to 1. The Spurs are tied with the Los Angeles Clippers 2-2 in their series and play Game 5 in Los Angeles on Tuesday. Atlanta is the fourth favorite. On Monday night, the Brooklyn Nets defeated the Hawks and now the series is tied at 2-2.
Below are the updated futures for the NBA as of Monday April 27 prior to Monday's games.
2014-2015 NBA CHAMPIONSHIP ODDS
WARRIORS 8 to 5
CAVALIERS 2 to 1
SPURS 8 to 1
HAWKS 12 to 1
CLIPPERS 12 to 1
BULLS 14 to 1
ROCKETS 14 to 1
GRIZZLIES 18 to 1
WIZARDS 35 to 1
MAVERICKS 500 to 1
NETS 500 to 1
BLAZERS 1000 to 1
BUCKS 2000 to 1