American Pharoah: 2015 Kentucky Derby Favorite
April 29, 2015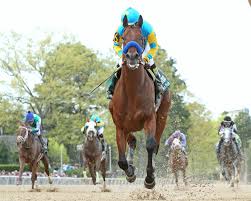 The 141st Kentucky Derby will run on May 2 from famed Churchill Downs. Picking the right horse to win the first leg of the Triple Crown can be a tough task. However, this year that could change.
This weekend a number of Kentucky Derby bettors will approach Saturday with calmness, They will step up to the betting window or sit down in front of their computer monitor and pick the exacta of American Pharoah and Dortmund.
This could be one of the few bets to make for the most famous horse race in the U.S.
Bob Baffert one of best trainers in all of horseracing has a 1-2 punch in this year's race that looks to be unbeatable. He trains both American Pharoah and stable mate Dortmund.
It is difficult to find any knocks on either of the two colts in the run up to Saturday's event.
American Pharoah is Grade 1 winner on three occasions and this year has won both of his starts handily. His final workout pre-Derby last Sunday received rave reviews across the board.
The colt was able to breeze through five furlongs in 58.4 seconds, which is the fastest time for the field at Churchill at that distance.
One long time clocker at Churchill said that in his 35 years of working horseracing, American Pharoah could be the best horse he has ever seen.
Dortmund has not lost in the six races he has entered and has displayed both a fast cruising speed and strong finishing kick.
Dortmund has showed great tenacity; in two wins, he surged down the stretch to take the win by just a head.
Dortmund's sire, Big Brown, was the winner seven years ago at the Kentucky Derby. Pioneer of the Nile, American Pharoah's sire was second at the derby in 2009 and Pioneer of the Nile's sire, Empire Maker is from Unbridled the 1990 derby winner.
Baffert has won the derby as a trainer on three occasions. War Emblem in 2002 was his most recent. However, Baffert knows nothing is certain at Churchill. He has had five post-time favorites at the Derby fail to win, with the most recent being Lookin at Lucky in 2010.