Geico 500 Favorite is Earnhardt Jr. Due to His Popularity
May 2, 2015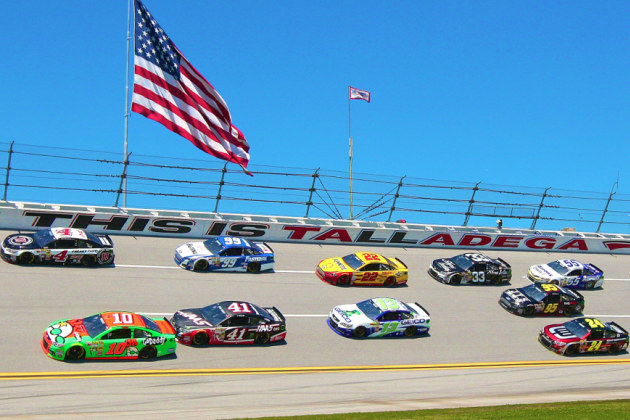 On a weekend loaded with big sporting events, the NASCAR Sprint Cup heads to Talladega Super Speedway for the running of the Geico 500 on Sunday. Dale Earnhardt Jr. won on this track in five out of seven races between 2001 and 2004 but has not won since, in 20 races over the 2.66 mile banked layout.
Nevertheless, with the volatile nature of this track and all of the 43 cars in the race quite equal, Earnhardt Jr. is favored to win by popularity and default.
A favorite is very hard to pick when it comes to odds making on this race as it is with any of the four races with restrictor plates – two each at Daytona and here at Talladega.
The edge that power teams have with other tracks does not apply here. Kevin Harvick's odds since Daytona have been around the 9 to 2 range each week and he has led 952 laps in the first nine races of the season. He is also one of the Sprint Cup series' best plate racers, but he has won just once during his entire career at Talladega and that was five years ago. This week Harvick opened at 12 to 1 to win and has remained there.
The reason that Junior had been placed at the top as the default favorite is his popularity. He routinely is voted NASCAR's most popular driver and that translates over to the betting windows.
It might be over 10 years since he last won at this track, but legend here precedes him thanks to the five previous victories.
He won last year at the Daytona 500 proving he knows how to read the draft far better than the rest of the drivers. Because bookmakers understand, they will have a big risk on him if he were 12 to 1 or 10 to 1, they figure to start him low and then adjust the numbers from there.
Using just probabilities the two favorites at Talladega should have been Matt Kenseth and Denny Hamlin. However, both have led a number of laps at Talladega and Daytona but have yet to win since joining Joe Gibbs racing. The two do not have a high volume of tickets bet on them as Earnhardt Jr. does.
Earnhardt at 8 to 1 is followed by Harvick, Hamlin, Kenseth and Jimmie Johnson at 12 to 1.