Odds For NFL Division Winners Released by Odds Makers
May 6, 2015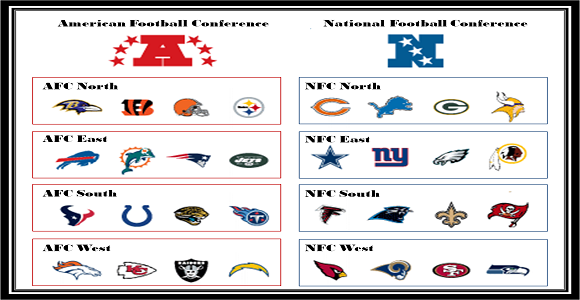 The article below is for 2015. For 2023 NFL Division Odds Click Here.
The NFL 2015-16 regular season is just over 4 months away and teams just completed their four-day draft this past weekend.
With the majority of big name free agents signed, most teams are now looking at their rosters and deciding what combination of lineups on the offense and defense will give them the best opportunity to win a division title, conference title and the Super Bowl.
Of course, the first goal of any NFL team is to win its own division. Odds to win the eight divisions in the NFL were posted earlier this week by Las Vegas sportsbooks as well as online offshore bookmakers.
The NFC South this season is expected to be a tight race with three teams – Atlanta Falcons, Carolina Panthers and New Orleans Saints – having the same odds of 9 to 5 to win the division.
The AFC North has three teams that odds makers have given solid changes of winning. However, the overall favorite in that division is the Baltimore Ravens at 8 to 5, while the Pittsburgh Steelers and Cincinnati Bengals are both close behind at 2 to 1.
A number of divisions have strong favorites to win the division. Teams such as the Denver Broncos, Indianapolis Colts, New England Patriots, Seattle Seahawks and Green Bay Packers are all odds on favorites to win their respective division title.
The two biggest long shots to win their division title are the Tennessee Titans in the AFC South at 25 to 1 and the Oakland Raiders in the AFC West at 25 to 1.
AFC EAST
PATRIOTS 4 to 9
DOLPHINS 4 to
BILLS 5 to 1
JETS 12 to 1
AFC NORTH
RAVENS 8 to 5
STEELERS 2 to 1
BENGALS 2 to 1
BROWNS 10 to 1
AFC SOUTH
COLTS 1 to 5
TEXANS 7 to 2
JAGUARS 20 to 1
TITANS 25 to 1
AFC WEST
BRONCOS 5 to 12
CHIEFS 7 to 2
CHARGERS 9 to 2
RAIDERS 25 to 1
NFC EAST  
COWBOYS 13 to 10
EAGLES 3 to 2
GIANTS 3 to 1
REDSKINS 15 to 1
NFC NORTH
PACKERS 2 to 7
LIONS 9 to 2
VIKINGS 8 to 1
BEARS 12 to 1
NFC SOUTH
PANTHERS 9 to 5
SAINTS 9 to 5
FALCONS 9 to 5
BUCS 12- to 1
NFC WEST
SEAHAWKS 2 to 7
CARDINALS 13 to 2
RAMS 13 to 2
49ERS 9 to 1