Hawks vs Wizards: Line, Injuries and Pick
May 9, 2015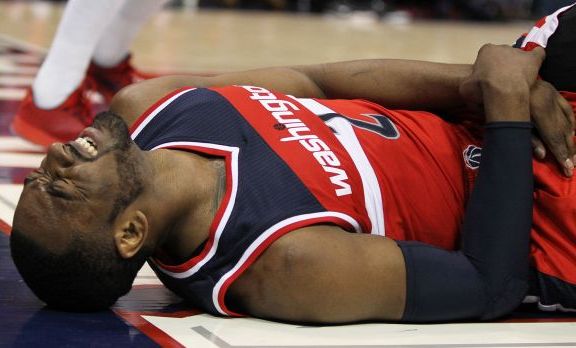 On Saturday, two NBA playoff games are on tap. In one of those games, the Atlanta Hawks visit the Washington Wizards for Game 3 of their best of seven semifinals series in the Eastern Conference.
Atlanta and Washington are tied at 1-1 after two games, as were each of the other three series in the playoffs before the Bulls and Clippers took 2-1 leads in their respective series on Friday night.
The series between the Hawks and Wizards shifts to the nation's capital and the big news continues to be John Wall the point guard for Washington who is doubtful for the game.
Wall fell hard on his wrist during Game 1 bracing himself as he hit the floor.
Thursday x-rays revealed five fractures, which leaves his playing status for the remainder of the postseason up in the air.
Wall prior to his injury was averaging 17.6 points, 10 assists, 4.5 rebounds and 1.6 steals a game during the 2014-15 regular season. In Game 1, Wall scored 18 points, handed out 13 assists, grabbed 7 rebounds and blocked 3 shots.
By early Saturday morning, most sportsbooks had Atlanta favored on the road by 3.5 points. Some are even as high as Atlanta -4. On the money line, Washington is +145.
Atlanta was able to even the series by winning Game 2 by 16 points as a chalk by 9 points at home. DeMarre Carroll continues to be the big catalyst for Atlanta as he played a stellar game with 22 points, 6 rebounds and 4 assists.
Despite a loss in Game 2, Washington was encouraged by Bradley Beal's play. Beal hurt his ankle late in Game 1. Beal appeared fine health wise in Game 2 as he scored 20 points, handed out 7 assists and grabbed 5 rebounds.
The UNDER is 44-42-2 overall for Washington but in home games the OVER is 23-19-1. The totals have been a wash overall for Atlanta at 45-45, with the OVER 23-21 in road games.
The Hawks will have another big advantage in this game against the Wall-less Wizards. The play here is Hawks less the points and the UNDER.