American Pharoah Big Favorite at the Preakness
May 11, 2015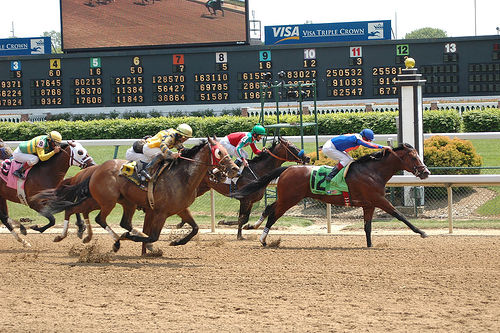 This week the second race of the Triple Crown will be run when the Preakness Stakes is run on Saturday May 16. Odds makers have made the Kentucky Derby winner American Pharoah the odds on favorite to win. However, American Pharaoh is still a big dog to win the Triple Crown in the eyes of odds makers.
In most betting venues in Las Vegas, at OTC parlors around the states and on Internet offshore sites, American Pharoah is currently 2 to 3 to in this weekend's Preakness Stakes. However, American Pharoah has current odds larger than 2 to 1 to win the Triple Crown by sweeping the Derby, Stakes and the Belmont Stakes on June 6.
The winner of the Kentucky Derby will be facing a number of stiff competitors at Pimlico this week at the Preakness. Several horses that ran at the Kentucky Derby on May 2 will take their second shot at beating the horse trained by the talented Bob Baffert. The Derby field 9 days ago was considered one of best fields ever to race the event.
Firing Line, the horse that was second at the Derby, Dortmund who was third, Danzig Moon fifth, Materiality sixth and Carpe Diem tenth, will all be running this weekend at the Preakness.
Of course, many things will come into play this weekend including the weather and now the horses react to another high profile race that can cause distractions to for them.
There are horses that are tentatively set to run, but some will likely be scratched, as the week move forward
Odds for Preakness Stakes Win
American Pharoah 2 to 3
Firing Line 7 to 2
Dortmund 4 to 1
Carpe Diem 8 to 1
Materiality 10 to 1
Competitive Edge 14 to 1
Danzig Moon 18 to 1
Divining Rod 20 to 1
Mr. Z 25 to 1
Stanford 28 to 1
Bodhisattva 30 to 1
Tale of Verve 40 to 1
Grand Bill 45 to 1
Odds of American Pharoah Winning Triple Crown
No -250, Yes +210