Golden State Heavily Favored to Win the West and the NBA Title
May 19, 2015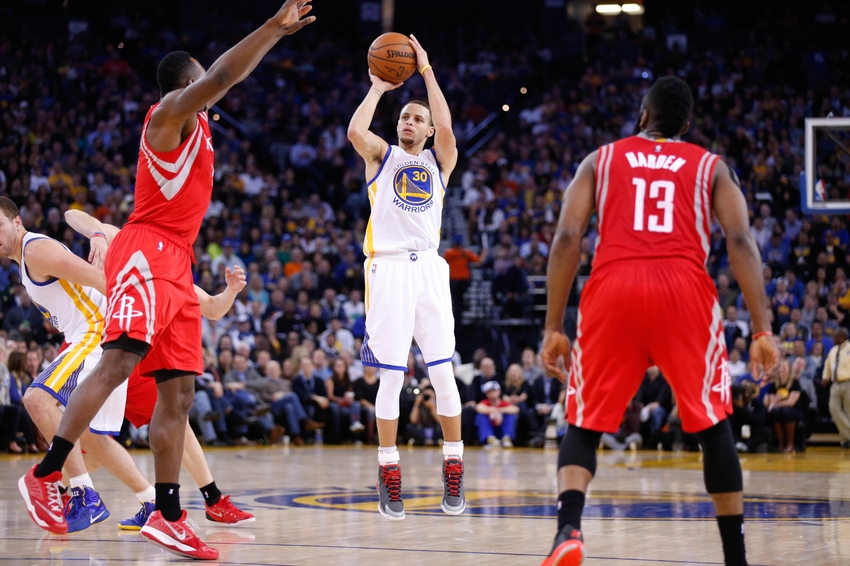 The Golden State Warriors are huge favorites to win the NBA Western Conference finals and now are the odds on favorites to win the NBA Finals.
The Warriors begin their quest for the Western Conference Tuesday night at home against the Houston Rockets. Golden State is favored to win the NBA Title and is heavily favored to beat Houston in the conference finals.
On a number of futures boards, the Warriors are now priced at 4 to 7 to win the NBA championships. A distant second in that betting are the Cleveland Cavaliers who are now sitting at 5 to 2 to win the title.
The Western Conference series price has the Warriors -1100 with the Rockets being offered at 7 to 1.
For Game 1, the Warriors are favored by 10 points on their home court with the total points moving between 219 and 220.
Golden State was a straight up winner and covered the spread in each of the four head-to-head games during the regular season against Houston.
Back East, the Cavaliers are the series favorites at -210 against the Atlanta Hawks who are sitting at anywhere from +190 to +180.
It is interesting to note that Atlanta however, is favored by 1 point in Game 1 on their home court Wednesday night. The Hawks own the home court advantage in the series but are close to 2 to 1 dogs in the series.
In Game 1 on Wednesday, in which Atlanta is favored, the point total is sitting on 197.5.
The two series will be a contrast. The East will have games that are more defensive and the offenses slower and more controlled, while out West both the Rockets and Warriors will look to shot within the fist 10 to 15 second of the shot clock each time they have the ball in their offensive end. Three-point shots will fly in the Western Conference finals as both teams love to throw the ball up from downtown.
2014-15 NBA Finals
Warriors 4 to 7
Cavaliers 5 to 2
Hawks 8 to 1
Rockets 12 to 1