Vegas Book Opens Betting on Mayweather Jr. – Pacquiao Rematch
May 20, 2015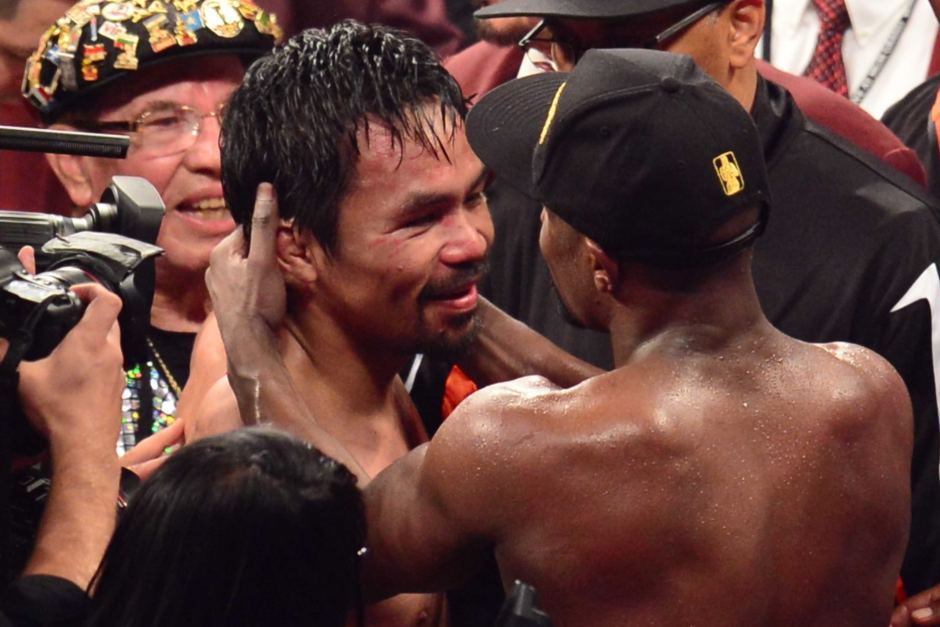 Floyd Mayweather Jr. was victorious over Manny Pacquiao just 18 days ago by a unanimous decision in Las Vegas at the MGM Grand.
In the vast majority of cases, sequels rarely end up being as good as an original. However, the possibility that Mayweather could hook up again with Pacquiao in the ring for Megafight II would surely end up more entertaining that the first bout that ended up disappointing millions of fans as Mayweather did what he does best to ensure he won for the 48th consecutive time as a professional.
Immediately following the fight, Mayweather was open to a rematch, but after feeling disrespected by Pacquiao, who blamed his loss on his injured shoulder, Mayweather did an about face and shot down any possibility.
Despite it appearing that a rematch is far from happening, a sportsbook in Vegas opened wagering on the possible bout. The book posted Mayweather at -200 as the favorite and Pacquiao at +185.
The only betting stipulation is the fight needs to take place prior to December 31, 2016. It does not matter where the fight is held.
Some sports odds makers can see a second fight taking place due to the two fighters closing out their careers and a great deal of money would be at stake.
If it were held, some believe the second fight would only take place in Las Vegas and after a new MGM arena opens. The MGM-AEG Arena, which is behind the New York-New York is due to open April of 2016 and a rematch could be the best choice to inaugurate the arena.
According to one column in a New York newspaper, the venue is part of the overall discussions around the second bout that have already started.
The idea that negotiations behind the scenes are already taking place makes the possibility that it actually will happen that much more likely. Of course, there will be many obstacles to overcome one of which is Mayweather's plan to retire after his last bout with Showtime in September.