Dixon Sees Odds Shortened for Sunday's Indianapolis 500
May 24, 2015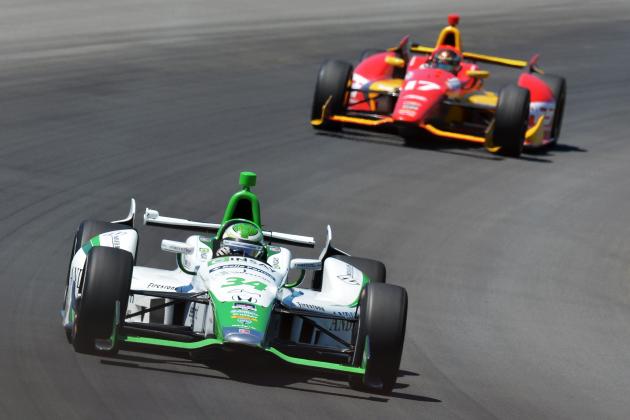 The ultimate racing weekend started early Sunday morning with the Formula 1 Monaco Grand Prix and will end with the Coca Cola 600 late Sunday afternoon. Squished in the middle of those two races is one of the best open wheel races anywhere in the world – the Indianapolis 500.
This will be the 99th time the race has been run. Odds makers have reshuffled the odds to win following the qualifying for the race.
At this time, Scoot Dixon is now the one of the odds on favorites to win the prestigious event. Dixon saw his odds to win shortened to 9 to 2 from 6 to 1, after he won the pole in last week's qualifying. Dixon won at the Brickyard back in 2008.
Prior to qualifying, Helio Castroneves was one of the co-favorites to win. However, he saw his odds lengthened just slightly to 6 to 1 from 5 to 1. He qualified for fifth place in the race on Sunday.
Simon Pagenaud the Penske Racing teammate of Castroneves saw his odds shortened to 9 to 2 to 10 to 1 and is now a co-favorite after he posted the fastest time in practice on Friday.
As is normally the case, drivers from Penske dominated the top of sports books with Juan Pablo Montoya and Will Power both with odds that are just single digits.
Chip Ganassi Racing has a large presence as well – the aforementioned Dixon, Tony Kanaan at 6 to 1 and a 50 to 1 Sage Karam.
These are the latest odds that could change right up to the green flag. The odds from before are sitting in parenthesis.
2015 INDY 500 WINNER
SCOTT DIXON 9 to 2 (6 to 1)
SIMON PAGENAUD 9 to 2 (10 to 1)
WILL POWER 5 to 1 (7 to 1)
HELIO CASTRONEVES 6 to 1 (5 to 1)
TONY KANAAN 6 to 1 (6 to 1)
JUAN MONTOYA 7 to 1 (5 to 1)
MARCO ANDRETTI 15 to 1 (10 to 1)
ED CARPENTER 18 to 1 (10 to 1)
CARLOS MUNOZ 20 to 1 (20 to 1)
RYAN HUNTER-REAY 25 to 1 (12 to 1)