Odds Makers Think Warriors Will Use the Broom Tonight
May 25, 2015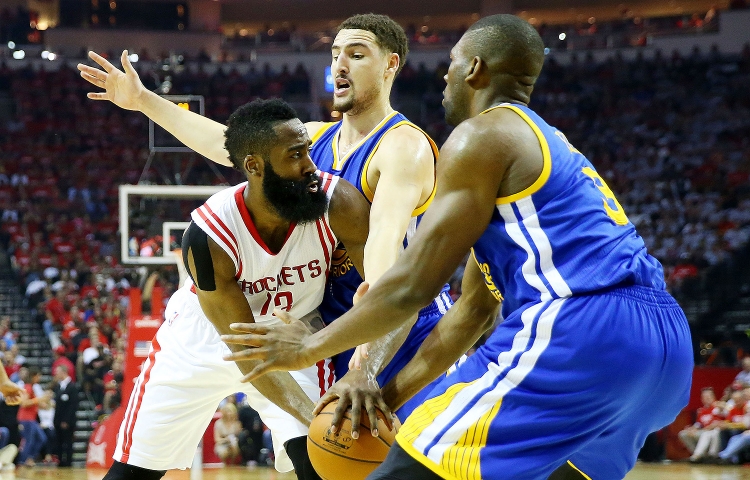 The Golden State Warriors meet the Houston Rockets in Game 4 of their best of seven series for the NBA Western Conference Finals. The Warriors lead the series 3-0 and can complete a swept of the Rockets with a win in Houston.
Houston has picked the wrong time to play mediocre basketball.
The Rockets looked pathetic on Saturday while getting throttled 115-80. Odds makers have apparently seen enough as they have made the Warriors a 4.5-point chalk for Game 4 after they were road dogs in Game 3. The point total has been dropped as well to just 214.
The Warriors were the dogs for the first time during this year's postseason, but the Warriors quickly proved that even on the road, they should be considered the chalk this season.
Needless to say, the Warriors are not dogs and it was as if Coach Steve Kerr took Stephen Curry aside and said you are picked to lose tonight or something to that effect, as he proceeded to score 40 points.
James Harden who arguably played better through the first two games of the series than did Curry was off in Game 3 hitting only 3 of his 16 shots and scoring just 17 points.
Each of the three games for Houston in these finals has not been the best of games for the Rockets. Houston has hit 28.5% of its three-point shots and its percentage has worsened in each game.
Against the LA Clippers, Houston averaged more than 10 3-point hoops per game, thus far combined in the first three games they have made 20 but that has gone from 8 down to 7 to 5. Houston looks like the Memphis Grizzlies on offense but cannot play any defense to make up for it.
The line has bettors almost saying the Warriors will win handily. It opened at -1.5 and has been moving up and sits currently at -4.5 and who knows if it will go higher before Monday's tip off.
The line swing is mostly due to motivation. No NBA team has every returned from a 0-3 deficit to win a seven game series in the NBA. That is right NEVER, which makes it hard to be motivated if you are the Rockets.