Ohio State Odds Shortened for 2016 College Football National Championship
May 27, 2015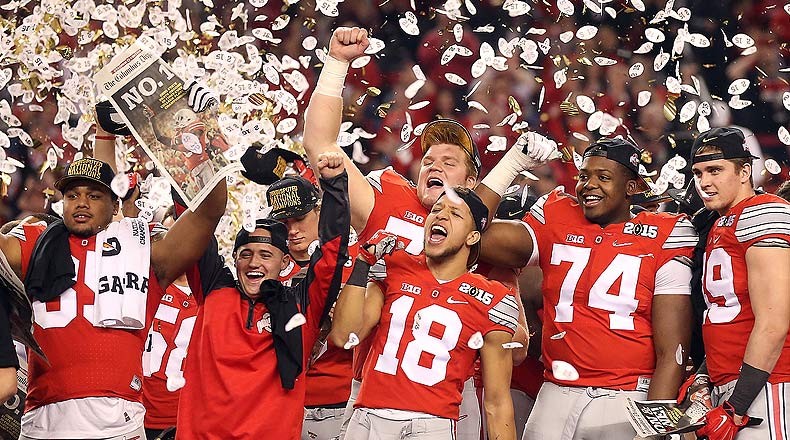 The 2015-16 college football regular season is just 100 days away and odds makers have updated their futures for the national championship.
With the opening kickoff approaching, the status of the Ohio State Buckeyes as the current favorite to win back-to-back national championships is now stronger than at any time since they won the national title back in early February.
One day after defeating the Oregon Ducks in the inaugural College Football Playoff Championship Game, the Buckeyes were posted as 9 to 2 chalk to repeat as national champions in the 2016 game. Since that time, the odds for OSU to repeat have shrunk to 3 to 1.
Alabama and TCU switched places on the boards as the second and the third favorites. Alabama's odds were trimmed to 7 to 1 from 8 to 1 and TCU's odds were lengthened to 8 to 1 from 7 to 1.
Auburn had its price cut over half since the opening line and the Tigers are now sitting at 12 to 1 to win the national title.
Everett Golson has transferred from Notre Dame to Florida State and that slashed Florida State's odds in half to 15 to 1 from 30-to 1.
Michigan will have Jim Harbaugh pacing the sidelines this fall and has seen its odds shortened to 60 to 1 from 100 to 1.
Baylor moved the other direction. However, at 18 to 1, the Bears are still the seventh best betting choice.
The Oklahoma Sooners have also had their price increase significantly. This season the quarterback position is up in the air and the once vaunted defense has not been able to stop and or cover an opponent, which is a bad sign when you play in a conference such as the Big 12 that is very pass happy.
The two Mississippi schools that are relevant nationally, both of which started last season at 9-0 and looked as if they would be threats for the national title, have seen their odds lengthened as well. Mississippi State has gone from 30 to 1 to 60 to 1 and Ole Miss from 25 to 1 to 40 to 1.
2016 College Football National Championship Odds
OHIO ST 3 to 1
ALABAMA 7 to 1
TCU 8 to 1
AUBURN 12 to 1
USC 15 to 1
FLORIDA ST 15 to 1
BAYLOR 18 to 1
OREGON 20 to 1
CLEMSON 20 to 1
UCLA 20 to 1