American Pharoah Pulls No. 5 Post Position for the Belmont
June 4, 2015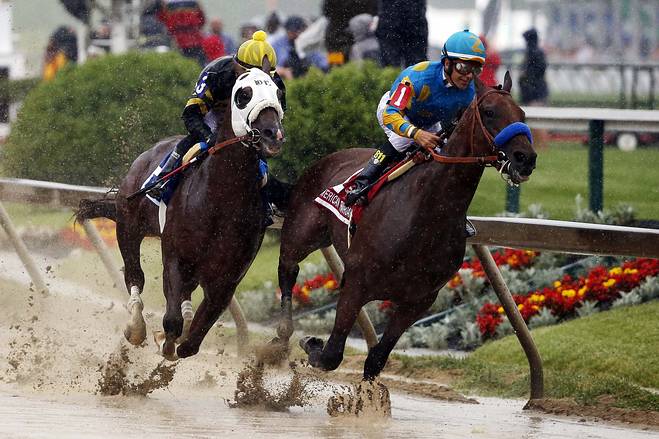 The final leg of the Triple Crown will be run on Saturday. American Pharoah has won the first two legs and drew a comfortable post spot at No. 5 for Saturday's Belmont Stakes.
He is attempting to become the first horse since 1978 to win the Triple Crown. That year Affirmed was the last horse to successfully win the Kentucky Derby, Preakness and Belmont Stakes.
American Pharoah was installed by odds makers after the post selection as the 3 to 5 favorite. There are only two other horses that have single-digit odds on the morning line. Each of them ran a respectable race at the Derby but skipped the Preakness.
Frosted was fourth on May 2 in the Derby, has been posted at 5 to 1 and the second choice for Saturday's Belmont.
Materiality finished the derby in sixth and is sitting at 6 to 1 for the Belmont. The colt is one of two horses trained by Todd Pletcher entered in the race on Saturday.
While the post position impact overall in the race is not that significant since the race is a mile-and-a-half, the trainer and jockey for American Pharoah are each pleased with the draw the horse got for the Belmont.
Bob Baffert the trainer of American Pharoah said there really is no bad post position in this race, but he has always done well with the 5 and was more than happy to have it.
Victor Espinoza the horse's jockey said he was very happy to have the No. 5 spot calling it a good number.
The ability of American Pharoah to get the distance of a mile and a half to end the grueling three races of the Triple Crown is the bigger concern of trainer and jockey.
Espinoza has lost the Belmont twice while riding horses that were going for the Triple Crown. Last year he lost while on California Chrome and he was aboard War Emblem in 2002 another horse trained by Baffert.
However, Espinoza said the third time is the charm and he was feeling lucky about Saturday's race.