Current Belmont Stakes Odds
June 4, 2015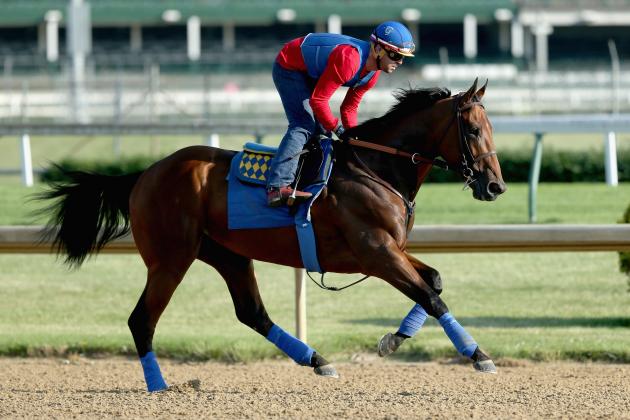 The third and final race in the horse racing triple crown is the Belmont Stakes. The race takes place Saturday. Here are the latest race odds provided by Bovada Sportsbook:
Belmont Stakes – Odds to Win  
MUBTAAHIJ (Ortiz / de Kock)                                 14/1
TALE OF VERVE (Stevens / Stewart)                    20/1
MADEFROMLUCKY (Castellano / Pletcher)       14/1
FRAMMENTO (Smith / Zito)                                    40/1
AMERICAN PHAROAH (Espinoza / Baffert)       5/7
FROSTED (Rosario / McLaughlin)                          6/1
KEEN ICE (Desormeaux / Romans)                       25/1
MATERIALITY (Velazquez / Pletcher)                  13/2
Will American Pharoah win the Belmont Stakes?            
Yes                         -140
No                          +110
Top 3 Finish Belmont Stakes – Mubtaahij             
Yes                         +275
No                          -350
Top 3 Finish Belmont Stakes – Tale of Verve       
Yes                         +400
No                          -600
Top 3 Finish Belmont Stakes – Madefromlucky  
Yes                         +275
No                          -350
Top 3 Finish Belmont Stakes – Frammento          
Yes                         +600
No                          -1000
Top 3 Finish Belmont Stakes – American Pharoah            
Yes                         -500
No                          +300
Top 3 Finish Belmont Stakes – Frosted  
Yes                         +110
No                          -140
Top 3 Finish Belmont Stakes – Keen Ice                
Yes                         +400
No                          -600
Top 3 Finish Belmont Stakes – Materiality           
Yes                         +120
No                          -150
Belmont Stakes – Head to Head Matchup             
Frosted                                -125
Materiality                         -105
Belmont Stakes – Head to Head Matchup             
Tale of Verve                     -140
Keen Ice                              +110
Belmont Stakes – Head to Head Matchup             
Keen Ice                              -150
Frammento                        +120
Belmont Stakes – Head to Head Matchup             
Madefromlucky                +110
Mubtaahij                           -140
Belmont Stakes – Head to Head Matchup             
American Pharoah          -300
Frosted                                +240
Belmont Stakes – Margin of Victory        
Over Lengths                                     O 2½ (-120)
Under Lengths                                  U 2½ (-120)