Tiger Continues Free Fall, 50 to 1 at U.S. Open
June 9, 2015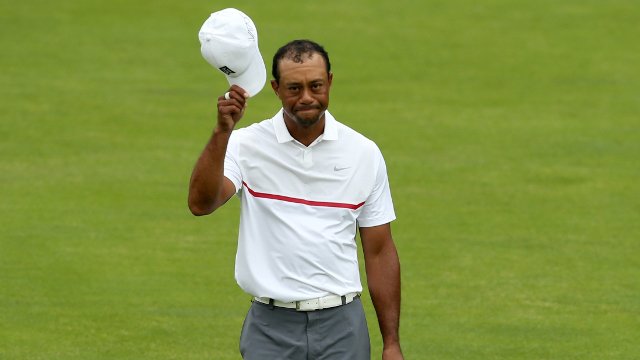 Last Saturday Tiger Woods shot an abysmal 13-over 85 at the Memorial Tournament. He came out on Sunday and played his final round alone as he started the day in last place and the field had an uneven number of golfers. He shot a final round 74 to finish the tournament at 14 over par.
After superstardom most of his career Woods is now alone as he is no longer the force he once was. While Jordan Spieth and Rory McIlroy have the world of golf fixed on them because of great play, Woods can only try to answer a simple question of, "What happened."
Glimpses of his past talent were seen at the Masters where he started Sunday at 6-under par. However, since then he has just 3 rounds of even par golf or better out of eight. Even though Woods has not played well and dropped way down in the world rankings, he still has won 8 tournaments since 2010 and just McIlroy with 11 wins has more over that period.
With the U.S. Open approaching (June 18-21), odds makers responded to Woods' horrible performance at the Memorial by lengthening his odds at the Open to 50 to 1. Just a week ago, Woods was sitting at 25 to 1 on most sportsbooks both in Vegas and online.
Woods will not play the St. Jude Classic this week and will likely be in seclusion until the beginning of next week when he will arrive at Chambers Bay in Washington, the site of this year's U.S. Open.
Tiger remains at 7 to 1 to win one major of the three left this year. McIlroy and Spieth are 1 and 2 on the odds board for the U.S. Open.
2015 U.S. OPEN ODDS TO WIN
RORY McILROY 6 to 1
JORDAN SPIETH 8 to 1
DUSTIN JOHNSON 15 to 1
JUSTIN ROSE 15 to 1
PHIL MICKELSON 20 to 1
RICKIE FOWLER 20 to 1
ADAM SCOTT 25 to 1
JASON DAY 25 to 1
HENRIK STENSON 30 to 1
BUBBA WATSON 30 to 1
SERGIO GARCIA 30 to 1
JIMMY WALKER 30 to 1
HIDEKI MATSUYAMA 30 to 1
JIM FURYK 30 to 1
MATT KUCHAR 40 to 1
MARTIN KAYMER 40 to 1
PATRICK REED 40 to 1
TIGER WOODS 50 to 1