Chevrolet Heavily Favored to Win Quicken Loans 400 in Michigan
June 12, 2015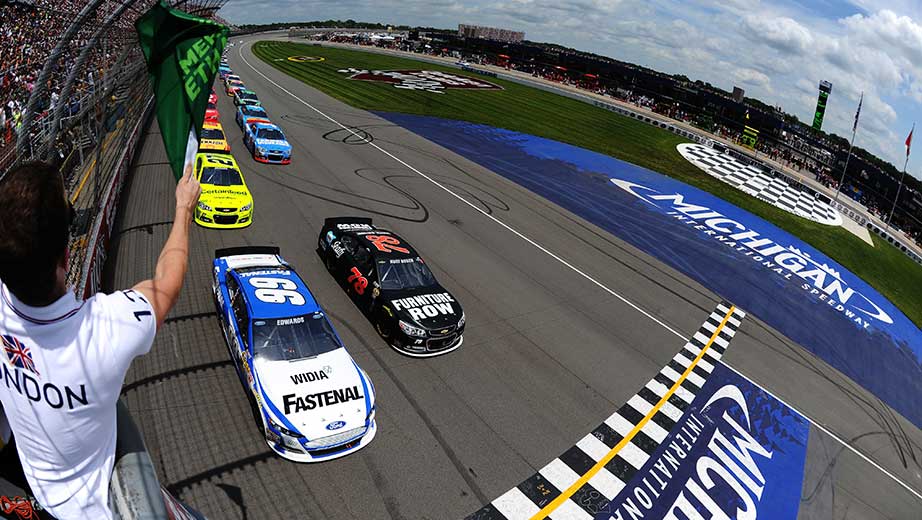 The last two NASCAR Sprint Cup races have been won by Chevrolet, at Michigan International Speedway. Chevy is favored again to win the Quicken Loans 400 on Sunday and the top five Sprint Cup drivers on sportsbooks' odds board wear bowties.
Nevertheless, in 91 races in the Sprint Cup on the D-shaped two-mile track, Ford has won 34 times, which gives it the overall all-time lead amongst eight manufacturers that have battled at Motor City's own speedway. Chevrolet has won 22 times and Toyota just 4.
The top five are as follows for the Quicken Loans 400.
Kevin Harvick at 7 to 2 is the favorite. All he ever has done this season is finish first or second. Over the 14 races thus far this season, Harvick has finished in the top-two 10 times with two wins. He has finished second the past four times he has raced at Michigan and won in 2010 at the track. On seven horsepower tracks thus far in the 2015 Sprint Cup series, he has finished in the top-two on six occasions.
Jimmie Johnson is 6 to 1. He won this race in 2014, which marked his first every Michigan win. In his 24 starts, he has come close a number of times but has an average finish of 15.8, with just five finishes in the top five.
Kurt Busch is 8 to 1 to win. Michigan is similar to Fontana and Busch on March 22 in Fontana was nearly unbeatable, but late cautions took away his big leads. He finished third in that race and has won twice in Michigan, but his last win was back on 2007.
Martin Truex Jr. is 10 to 1 to win. After leading more laps than any driver in four consecutive races, Truex finally won at Pocono. He was the 10th driver this season to win a race out of 14 races. Just Harvick and Truex have 13 finishes in the top 10 out of the 14 races this season.
Dale Earnhardt is 10 to 1 to win as well. Prior to the four wins he earned last season, the only two wins for Junior were at Michigan in 2008 and 2010 for Hendrick Motorsports. In his 31 career Michigan starts, he has an average finish of 15.6.