NBA Finals Has Intriguing Battle for the MVP
June 14, 2015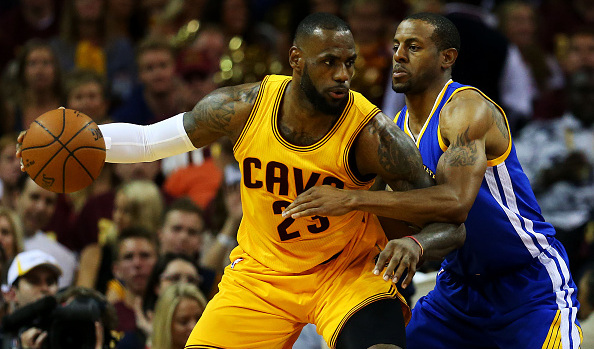 While the NBA Finals are tied 2-2 entering Sunday's Game 5, there is another close race full of intrigue for the NBA Finals MVP.
During the regular season, Stephen Curry won the NBA MVP and his opponent in these NBA Finals, LeBron James finished third behind Curry and Houston's James Harden.
LeBron has hinted that he has a secret motivation to win this year's NBA title and it could be that he wants the NBA Finals MVP that would likely accompany an NBA Title.
It might also be that Curry said before the start of the series that he was born in Akron and would like to be the first player to bring the championship to that area.
For LeBron, an MVP for the Finals over the MVP for the regular season would be very gratifying. Everyone is aware how LeBron feels about Ohio, so it is likely Curry's little dig at bringing the NBA title to Akron did not go over all that well.
Currently, offshore sportsbooks have Curry listed as the favored at -180 with James sitting on +200.
LeBron was also not too thrilled when the Warriors said after their win in OT in Game 1 that they would let him score 40 points and stop the rest of the team.
LeBron replied to that by saying, no one lets me get 40, I go out and get the 40 points.
In Games 2 and 3, LeBron scored 39 and 40 respectively happy to win both. However, on Thursday, he scored 20 points and the rest of his teammates played even worse in a 103-82 loss.
LeBron will have even more motivation coming into Game 5 as he was outplayed in Game 4 and slowed down by Andre Iguodala the veteran guard.
James called Iguodala an x-factor, saying he can play, he can shot and he can hit from outside.
Iguodala's play has been so effective Steve Kerr the head coach at Golden State called him the team's best player after the first four games. He is not averaging outrageous numbers for points, rebounds or assists, but he was key to both of the Warriors; wins.
Current MVP odds for NBA Finals (payout to risk)
Stephen Curry 5 to 9
LeBron James 2 to 1
Andre Iguodala 13 to 2
Draymond Green 50 to 1
Klay Thompson 50 to 1