Oddsmakers Have Towns Going to Timberwolves as No. 1 Overall Pick
June 25, 2015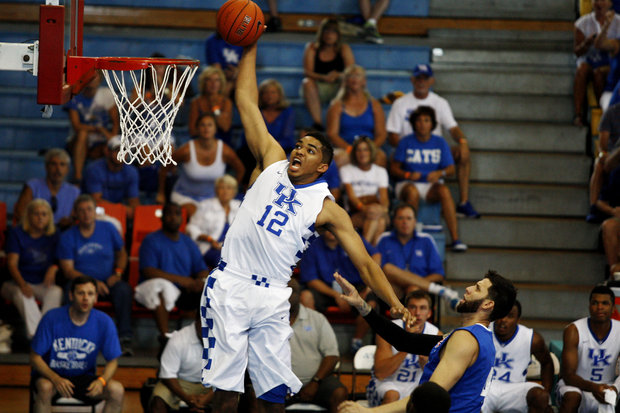 The NBA Draft is Thursday June 25 and should be filled with excitement, as a number of talented players are ready to make the jump from college to the NBA or from international leagues to the NBA.
The Minnesota Timberwolves have the first overall pick in the draft and reportedly have already told former Kentucky big-man Karl-Anthony Towns that they will select him with their pick on Thursday night. The big man from Kentucky was installed by bookmakers as the prohibitive favorite at -1200 to be picked first overall on Thursday.
Many observers of the game though have the opinion that Minnesota is making a big mistake drafting Towns rather than former Duke Blue Devils center Jahlil Okafor. The former Duke star is sitting at 4 to 1 to be drafted first.
The Los Angeles Lakes seem to be the team most likely to land Okafor but if you want to bet against the Lakers using their No. 2 pick to take Okafor odds of 7 to 2 are available.
The No. 3 pick in the NBA Draft is held by the Philadelphia 76ers and you will have to use a coin to flip and pick whom the 76ers will take. Many believe it will be D'Angelo Russell the freshman from Ohio State or Kristaps Prozingis from Latvia who some call a big stretch.
Russell denied reports he was not interested in playing for Philly, while one scout says that Prozingis plays better than Towns.
Other players that have generated a great deal of interest on sportsbooks are Justice Winslow the former forward with Duke; Emmanuel Mudiay who was in China last year after he was ruled ineligible to play at SMU for Larry Brown; and teammate of Towns Willie Cauley-Stein, whose stress fracture has been a concern for many team in the NBA.
There is expected to be a number of trades before, during and after the draft. Portland traded Nicolas Batum on Wednesday night to Charlotte for Gerald Henderson and Noah Vonleh. The Hornets had traded away Lance Stephenson over a week ago to the Los Angeles Clippers for Matt Barnes and Stephen Hawes. The Boston Celtics have four picks that they will be looking to move, as they are not in the market for drafting four rookies.