Wimbledon Opens at All England Club June 29
June 29, 2015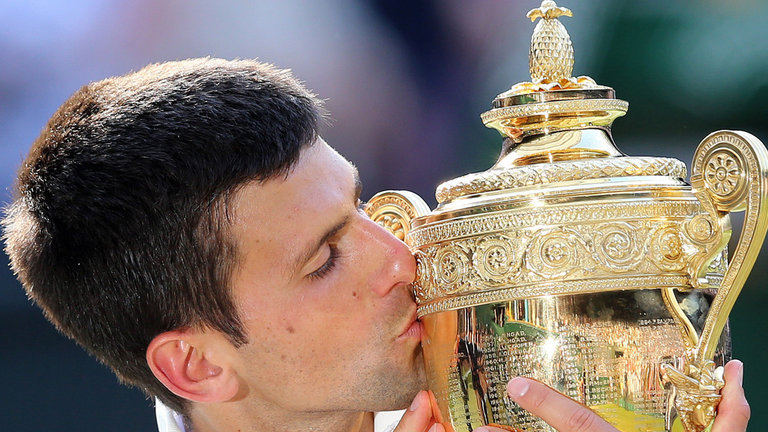 Wimbledon starts on Monday at the All England Tennis Club and for the gentlemen's side the odds on favorite to win the singles crown is Novak Djokovic at 6 to 5, while for the women Serena Williams is 3 to 2 to win. Djokovic was favored by more earlier, but strong play by Andy Murray has moved the Scot closer to the Serb.
Both Djokovic and Williams were the top betting choices for the two earlier grand slam events the Australian and French Opens. No matter the type of surface – clay, grass or hard the two are clearly the best in the world.
It does not appear as if a changing of the guard in either the men's or women's game will be taking place in the near futures. Djokovic won at the Australian, before losing during the French Open final at Roland Garros in early June. Williams on the other hand has won the season's first two grand slam events.
Djokovic won for the second time last season at Wimbledon by defeating Roger Federer who is a seven-time champion at Wimbledon.
Speaking of Federer, the Swiss tennis star has not won a grand slam event since he won here at Wimbledon in 2012. He currently has been given the third best odds at 6-1, while Murray is sitting on 5 to 2 to win which is the second best odds. Swiss star Stan Wawrinka, who defeated Djokovic to win the French Open title, is fourth on the men's side at 12 to 1.
Last year, Williams was the No. 1 seed but was defeated in the third round. She lost to Alize Cornet the No. 25 seed in the tournament in a match that went three sets. Williams is the winner of five Wimbledon singles titles with her last coming back in 2012.
In last year's ladies finals, Petra Kvitova defeated Genie Bouchard to win Wimbledon for the second time. Kvitova is the second betting choice for odds makers at 7 to 2, while Bouchard has struggled during 2015 and is a long shot at 60 to 1.
Gentlemen's 2015 Top 5 Betting Choices
NOVAK DJOKOVIC 6 to 5
ANDY MURRAY 5 to 2
ROGER FEDERER 6 to 1
STAN WAWRINKA 12 to 1
RAFAEL NADAL 15 to 1
Ladies 2015 Top 5 Betting Choices
SERENA WILLIAMS 3 to 2
PETRA KVITOVA 7 to 2
MARIA SHARAPOVA 9 to 1
VICTORIA AZARENKA 15 to 1
SIMONA HALEP 15 to 1