U.S. Women Slight Favorites Over Japan in World Cup Final on Sunday
July 3, 2015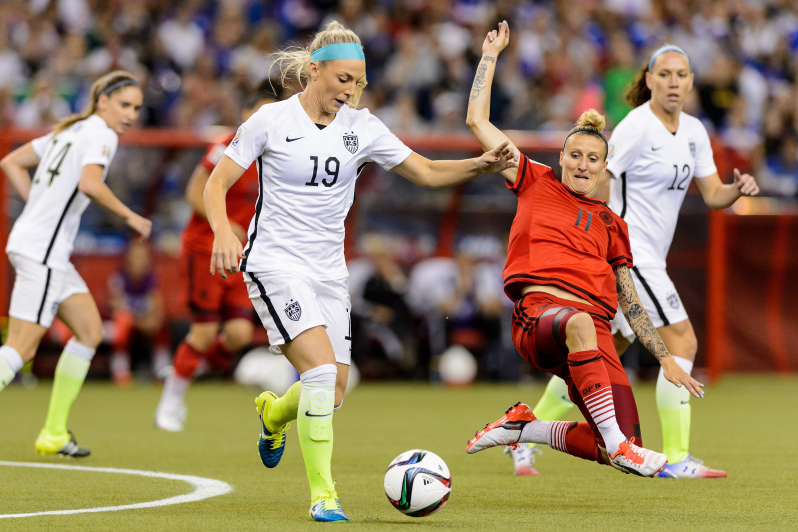 The U.S. women are short regulation favorites against Japan in the World Cup final on most sportsbooks. The Americans are -120 favorites for the 90-minute line for Sunday's World Cup final. On the -120 line, you must bet $120 to win $100.
The defending champion Japanese squad is at 7 to 2 odds or +350. A draw in regulation is being given at 5 to 2 or +250. The Japanese are also available at +1/2 goal on even money.
Those odds previously mentioned are for the match to end after regulation. To have an outright win the U.S. is a -250 favorite at most bookmakers.
The U.S. is coming of a spirited and very technically sound match in the semifinals where they defeated Germany 2-0. Until that match, the U.S. had been unimpressive during the tournament.
Japan arrived in the final thanks to England's own goal during stoppage time that broke a stalemate of 1-1.
The U.S. should be considered the home favorite as they are playing in Vancouver and the stadium will be with filled with fans from U.S.
The U.S. is seeking its third World Cup title something no other team has accomplished. Japan is trying to become the first ever defending champion to repeat and join Germany and the U.S. as two-time World Cup champions. This is just the seventh time the women have played the World Cup.
Revenge could be a huge factor in the outcome of this match. The U.S. was beaten by Japan in the World Cup Final of 2011 in Germany. The U.S. twice gave back leads of one goal before losing during penalty kicks.
The win in 2011 was the first time in 31 all-time matches between the two teams that Japan had won. The U.S. defeated Japan in 2012 in the London Olympic Games final for gold, but the U.S. team wants this match more than they did the London Olympic match.
Megan Rapinoe a midfielder for the U.S. who has played the best for the club during the tournament, said prior to the Japan win over England in the semifinal, whoever the team faces will be fine, but obviously it would be great to get a victory back on Japan.