Dale Earnhardt Jr. Favored to Win Coke Zero 400 at Daytona
July 4, 2015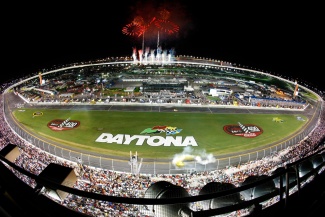 NASCAR returns to Daytona Speedway this week for the Coke Zero 400 on Sunday night. Dale Earnhardt Jr. has not won a race during the summer at Daytona since 2001 when he was still grieving over the last of his father just months before.
However, because of positive results from his racing this season in restrictor plate tracks sportsbooks were forced to put him as the favorite in Sunday's race at 8 to 1.
This season in his two plate races, Junior has been at the top. He led 32 laps in the Daytona 500 to open the season and ended third. Two months ago at Talladega in the Geico 500, he led 67 laps, which led the race, and won. This is just one season after he won the Daytona 500 in 2014. He has won at Daytona on three occasions in his career.
One of the facets of Earnhardt's career that is most important at Daytona has been the ability to run throughout his career at a high level.
While a number of drivers have had moments being considered a great Daytona driver over short time frames, he has managed to have an average finish at the track of 13.05 in 31 career starts.
It has not mattered if his team had been racing well or not. It has not mattered when new aerodynamic packages were put in place. Junior is able to get the job done on this track better than others are.
Right now, he is rolling with the Hendricks Motorsports team that has figured everything out when it comes to plate races thus far this season.
Jeff Gordon a winner six times at Daytona and Jimmie Johnson a three-time Daytona winner are second in odds to win at 10 to 1.
Logano is 12 to 1 with six fellow drivers and with a win would sweep Daytona this season. However, that does not happen all that often. Johnson accomplished the feat back in 2013, but the last previous to him was Bobby Allison in 1982.