Vegas Sportsbook Releases Complete Week 1 College Football Lines
July 9, 2015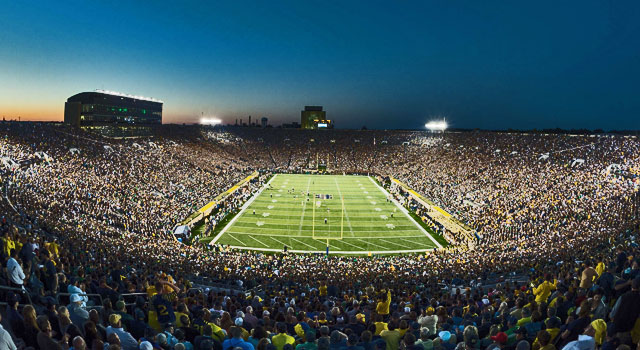 College Football lines for Week 1 of the 2015-16 regular season have been released by a Las Vegas sportsbook, which means football season is just weeks away from its opening kickoff.
Bettors have already started to jump in on the odds and within hours, other Vegas and online sportsbooks are sure to follow.
Thus far, there has been a great day of action with straight bets on Utah, Oklahoma State, BYU and UCLA. Some of the spreads are stratospheric in size with Georgia Southern getting 31 points versus West Virginia.
Week 1 of the college football regular season will span five days. The opening week as usual will start on Thursday with a mix of inter-conference games, huge point spread and everything that can be considered in between.
Amongst the games that will likely be the most intriguing, include the debut of Jim Harbaugh as head coach at Michigan when the Wolverines play at Utah. The Fighting Irish of Notre Dame will lay more than a touchdown at home chalk against Texas. Alabama will face Wisconsin in the Cowboys Classic from AT&T in Arlington, while Auburn and Louisville will tangle in Atlanta in the Chick-fil-A Kickoff Classic.
On Monday night, Virginia Tech will host the defending national champions Ohio State as the Buckeyes, currently No. 1 ranked look to avenge the only loss they suffered all of last season. Ohio State is also the preseason favorite to win the national championship again.
Other notable games include TCU playing at Minnesota with the Horned Frogs laying 16 points. Baylor is laying 26 when it travels to SMU, while UCLA is laying 15.5 at home against Virginia. In a battle of two strong teams from last season the Pac-12 Arizona State Sun Devils travel to Texas A&M with the Aggies laying 3 points.
As the season approaches, as we are 8 weeks away from kickoff, more lines for the first week and other weeks will be released. Games of the Year have been released by many sportsbooks, but those consist of just the top games of each week.