Quaker State 400 Will Have New Rules Package
July 11, 2015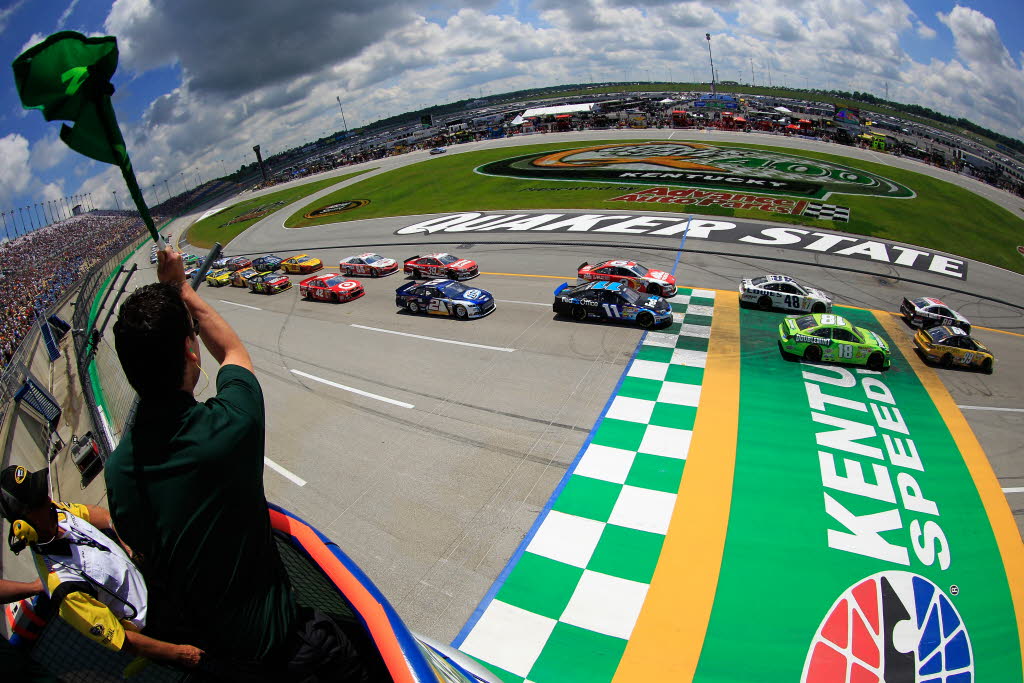 Kevin Harvick has been slotted in as the favorite at 5 to 1 to win the Quaker State 400 on Saturday night at the Kentucky Speedway. For plenty of reasons, one of which he has led 433 laps this season on 1.5-mile tracks, Harvick is back atop the odds board.
There are other reasons as well. In both the last two seasons, the driver that has won Las Vegas had also taken the checkered flag in Kentucky. With Harvick, he did not only win Las Vegas but was dominant leading 142 laps. If that trend were to hold true, he could cross this track off his need to win list. His career best is seventh at Kentucky, which was accomplished last year.
One variable however, that could stop that trend is this week things are being mixed up by NASCAR with the additional new rules that feature a splitter and shorter spoiler that has the aim of creating more passing.
The new rules are for just one race maybe. NASCAR will see what takes place during the race and then decide if the package of new rules has a future after hearing from drivers and fans.
When Brett Keselowski and Matt Kenseth won Vegas/Kentucky doubles, they had the same rules.
The changes will have a huge effect on this race and almost eliminated the edge that drivers such as Harvick, Martin Truex Jr., Dale Earnhardt Jr. and Jimmie Johnson have on tracks that are 1.5 miles.
Everyone will start from scratch, even though the majority of teams have had testing done with the new set-up during the last 18 months.
A shorter spoiler, which is reduced to 3.5 inches from 6 inches and the splitter has less overhang, will cause the cars to go slower due to a slippery ride through the corners.
Drivers will have extra work to do to prevent spinouts. The cars will still be able to go fast, but the tires will have difficulty sticking. The old set-up of Harvick's was perfect, but he will now start from the beginning like every other driver.
QUAKER STATE 400 ODDS
KEVIN HARVICK 5 to 1
JIMMIE JOHNSON 11 to 2
DALE EARNHARDT JR. 15 to 2
JOEY LOGANO 17 top 2
BRAD KESELOWSKI 10 to 1